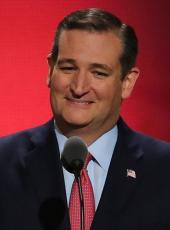 Press Release - Ted Cruz Announces Endorsement of Christian Talk Show Host
Dr. Michael Brown supports Cruz for President
HOUSTON, Texas – Presidential candidate Ted Cruz today announced the endorsement of Dr. Michael Brown, a Judeo-Christian talk show host and evangelical leader.
Dr. Brown is a Messianic Jew and a professor of Biblical and Hebrew studies. He's the founder and president of FIRE School of Ministry, the Director of the Coalition of Conscience, and host of the daily, nationally syndicated talk radio show The Line of Fire. Brown also hosts a TV show on Judeo-Christian apologetics, "Answering Your Toughest Questions."
"I deeply appreciate Dr. Brown's support, and respect his contribution to Judeo-Christian scholarship," Cruz said. "Michael Brown inspires people to seek out the truth about God and faith, and I'm glad to add his name to that of other faith leaders who are committed to increase the evangelical vote in 2016."
"Ted Cruz isn't just an ally to the Christian community – he is one of us," Brown said. "Ted Cruz has spent his entire career defending religious liberty. He understands the significance of supporting Israel. And he isn't just a talking head – on issue after issue, Ted Cruz has been a leader and a spokesman for people of faith. I look forward to joining him in South Carolina next week to raise attention to the religious liberty crisis in America."
Dr. Brown has authored 27 books and numerous scholarly articles on a variety of Judeo-Christian topics. He is a national and international speaker on themes of spiritual renewal and cultural reformation. Brown and his family reside in Concord, North Carolina.
Dr. Michael Brown will be appearing with Ted Cruz at Cruz' Rally for Religious Liberty on Saturday November 14th in Greenville South Carolina.
*Titles and affiliations of Dr. Michael Brown are provided for identification purposes only.
Ted Cruz, Press Release - Ted Cruz Announces Endorsement of Christian Talk Show Host Online by Gerhard Peters and John T. Woolley, The American Presidency Project https://www.presidency.ucsb.edu/node/315062