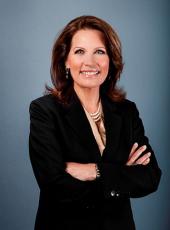 Press Release - Team Bachmann Builds on Organizational Strength in Iowa; Announces 64 Southeast Leaders Following Candidate's Tour of the Region
Urbandale, Iowa – Following Republican presidential candidate Michele Bachmann's three-day swing through southeast Iowa, the campaign released the names of 64 grassroots activists who will play an instrumental role in organizing for the state's first-in-the-nation caucuses.
"The caucuses are won precinct-by-precinct with neighbors talking to neighbors, friends talking to friends. These supporters, like others around the state, are already working hard on Michele Bachmann's behalf to bring home a victory," said state Sen. Kent Sorenson, Bachmann's state chairman. "Southeast Iowa proved to be an important region in the 2008 caucuses and the same will be true in 2012."
The grassroots leaders announced today are:
Bret Shaffer, Osceola
Steve Beyer, Burlington
Darin Roth, Fairfield
Lyle Ahrens, Harper
Beverly Schirz, Pella
Crystal Wilson, Ottumwa
Jill Hollingsworth, Grinnell
Jerry Leathers, Stockport
Dennis Whitson, Ottumwa
Marie Kerr, Washington
Kenneth Halfhill, Corydon
Ed Fagen, Oskaloosa
Cyril and Jan McKay, Fremont
Phil and Constance Cavanaugh, Ottumwa
Jane Hodoly, Ottumwa
Wanda Crosson, Eddyville
Betty DeBoef, What Cheer
Rob and Bonnie Noah, Oskaloosa
Phil Porter, Oskaloosa
Danny Carroll, Grinnell
Arvin and Cheryl Peterson, Knoxville
Dave Milam, Oskaloosa
Jennifer Doland, Oskaloosa
Gloria Vilianueva, Fairfield
David and Vicky Eastburn, Fairfield
Levi State, Oskaloosa
Julie Hutchinson, Oskaloosa
Jamie Strickler, Fairfield
James Johnson, Bloomfield
Barry Visser, Oskaloosa
Donald Morrow, Oskaloosa
Bill Tvedt, Oskaloosa
Lois Klein, New Sharon
Josh Christenson, Pella
Wendi Dahm, Pella
Shirley Meeks, Knoxville
John Mulenberg, Knoxville
Mark Waits, Centerville
Scott McLin, Osceola
Terry and Danelle Taylor, Weldon
Randy Crawford, Coralville
Kathy Workman, What Cheer
Pat Scanlon, Oskaloosa
Connie Anderson, Davenport
Carl Grey, Pella
Gina Chesling, Muscatine
Andy Kay, Davenport
Sheila Reiland, Iowa City
Terry Davis, Burlington
B.J. Jahn, Burlington
Steve Beyer, Burlington
Dave Childers, Oskaloosa
Brad Cranston, Burlington
Katherine Hove, Solon
Dallas McLaughlin, Knoxville
Norm and Coretha Rozendaal, Monroe
Robert Schneider, Burlington
Michele Bachmann, Press Release - Team Bachmann Builds on Organizational Strength in Iowa; Announces 64 Southeast Leaders Following Candidate's Tour of the Region Online by Gerhard Peters and John T. Woolley, The American Presidency Project https://www.presidency.ucsb.edu/node/298982