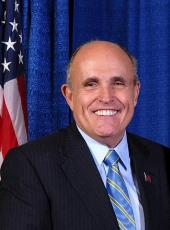 Press Release - Strategy Memo: Mayor Giuliani's Primary and General Election Strength
To: Team Rudy

From: Brent Seaborn, Strategy Director

Date: May 2, 2007

RE: Mayor Giuliani's Primary and General Election Strength
REPUBLICAN PRIMARY UPDATE
As we head into the first Republican Presidential debate, Mayor Giuliani has led in every major national poll from the last 14 weeks. Since the Mayor made clear his intention to seek the Republican nomination for President, he has maintained a double digit lead over his rivals. Recent analysis by Gallup Poll1 finds Mayor Giuliani's lead over his closest opponent over the past few weeks has averaged approximately 15-points.
Rudy Giuliani Continues to Lead the Republican Primary Field
We expect the dynamics of the Republican race may change in the coming months. However, we are confident we have built strong and durable support — even as we know the polls are likely to tighten considerably.
Rudy Giuliani Leads his Republican Rivals in California and Other Important Primary States
The traditionally early states of Iowa, New Hampshire and South Carolina will be very competitive. Mayor Giuliani leads his closest opponent in 5 out of the last 8 polls conducted in Iowa. New Hampshire polling finds just a few points separate the frontrunners. Recent polls in South Carolina have been mixed — a Fox News Poll (April 1-3, 2007) reports Mayor Giuliani leading all other Republicans.
GENERAL ELECTION UPDATE
Rudy Giuliani Will Put California and Other Key Battlegrounds in Play
Mayor Giuliani has strong standing in early primary states like California. Recent polls continue to support the idea that Rudy Giuliani will help put not only California, but other key states in play during the general election. Forty-four percent (44%) of Republicans, according to a recent Pew2 study, believe Rudy Giuliani is the most electable candidate in the general election — a 23-point margin over the next closest Republican candidate.
Mayor Giuliani has the ability to win in California in both the primary and the general election. Not since Ronald Reagan has a Republican candidate been in such a strong position to put California in play during the general election for the Republican Party.
We are also pleased with our strength in the recent battlegrounds of Florida and Ohio. In addition, we are currently running strong in New Jersey, Pennsylvania and New Hampshire — all states that President Bush lost in 2004.
We also plan on expanding the playing field to other recent Democratic states in 2008.
The Republican Frontrunner Beats the Democratic Frontrunner
While Republicans fare poorly in a generic ballot match-up, Mayor Giuliani is able to rise above it. Rudy Giuliani may be the only Republican candidate that can compete in 2008 against the Democratic nominee. Mayor Giuliani dramatically swings the Gallup Poll's generic ballot gap from a 15-point Republican deficit, to a 2-point lead over Senator Clinton and a 9-point lead over Senator Obama. Since the beginning of February, Rudy Giuliani has led Hillary Clinton in every major national poll conducted by an average of 4-points.
Strongest Leader and Most Inspiring Candidate
We believe this election is ultimately about leadership. Republicans are responding to Mayor Giuliani's strength as a leader, confident in his ability to tackle the difficult challenges our country faces.
According to Pew, Mayor Giuliani is seen as the strongest leader and the most inspiring candidate in the Republican field. Thirty-seven percent (37%) of Republicans and Republican—leaning voters view Rudy Giuliani as the strongest leader, and 44% find him to be the most inspiring candidate. More than any other elected office, voters choose Presidents that can inspire and lead.
The same Pew study also finds a plurality of Republicans believe Rudy Giuliani is most likely to make the changes the country needs.
Rudy Giuliani Has Broad Support
According to the Pew Study cited above, Mayor Giuliani leads all of his opponents for the Republican nomination in every major demographic and attitudinal measure — every age subgroup, every ideology subgroup, among men and women, every income cohort, among all religious subgroups (including white, evangelical Protestants) and among both Republicans who approve of President Bush's job performance and those who disapprove.
The Gallup Poll analysis also supports the breadth of Giuliani support across ideology geography, age, education and gender. Mayor Giuliani also leads among regular church goers.
Conclusion
As the primary process develops, we are strongly positioned to capture the Republican nomination and we can maintain our strength through what will be an evolving and tightening Republican field. Coming out of the nomination process we are confident we will enter the 2008 general election in the strongest position against any Democratic nominee.
While we fully expect the polls to tighten and this to be a close race to the very end, this election is ultimately about leadership.
1 Gallup Poll — Inside the Republican Vote for President April 30, 2007
2 Pew Research Center — April 2007 Political Survey — April 18-22, 2007.
Rudy Giuliani, Press Release - Strategy Memo: Mayor Giuliani's Primary and General Election Strength Online by Gerhard Peters and John T. Woolley, The American Presidency Project https://www.presidency.ucsb.edu/node/295197