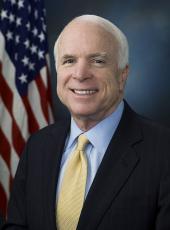 Press Release - Statement By Senator Bob Dole On Naomi Wolf's Attack On John McCain
ARLINGTON, VA -- U.S. Senator John McCain's presidential campaign today released the following statement by former U.S. Senator and presidential candidate Bob Dole in response to comments today by Naomi Wolf:
"This is a shameful attack on an America hero. John McCain has served his country with courage and honor. Tomorrow marks the 35th anniversary of John's release from the notorious 'Hanoi Hilton,' after being held for 5 1/2 years as a prisoner of war. For Ms. Wolf to challenge John McCain's integrity and commitment to his country is disgraceful. Ms. Wolf's comments illustrate the growing disconnect between anti-war extremists like MoveOn.org and the very real challenges of waging a war against radical Islamic extremism. John McCain understands these challenges. He has proven himself to his fellow POWs and he has proven himself to the American people."
Naomi Wolf: "We're looking increasingly at a police state and the American people are asking about this and I have to say with great disappointment, the major media figures who are asking both Obama and Clinton and McCain the tough questions aren't even going there. They are not even saying to McCain, you were tortured, you were held prisoner, you gave information under duress in enemy hands. And you allowed them to create loopholes in the Military Commissions Act that you passed in 2006. What happened with that?" (MSNBC's "Live," 3/14/08)
Watch Naomi Wolf On MSNBC Today
John McCain, Press Release - Statement By Senator Bob Dole On Naomi Wolf's Attack On John McCain Online by Gerhard Peters and John T. Woolley, The American Presidency Project https://www.presidency.ucsb.edu/node/295328