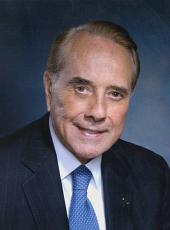 Press Release - Statement by Governor Carroll Campbell, Chairman, Dole/Kemp Debate
"Today, the Dole/Kemp campaign submitted our proposal for multiple, one-on-one debates between President Clinton and Bob Dole, and between Vice President Gore and Jack Kemp.
"Bob Dole and Jack Kemp are willing to hold six debates with their counterparts in the Democratic Party between September 25th and October 25th. There would be four debates between the presidential candidates, and two debates between the vice presidential candidates.
"We believe the debates should be one hour in length, and should have a single moderator.
"Our position on debates between the Democratic and Republican nominees without representation by any third party candidate is based on a belief that only Bill Clinton and Bob Doles are viable candidates for president. We propose to expand the number of debates beyond the number recommended by the Commission, because we believe the American people need to have a clear understanding of the stakes of the election, and the positions held by the major party candidates.
"Make no mistake about it: the stakes in this election are profound. We have a choice between lower taxes and higher taxes; between fewer teenager using drugs and more teenagers using drugs; between an America able to defend itself from ballistic missiles and an America defenseless against weapons of mass destruction; between more liberal judges n, the appointment of conservative judges; between a moral crisis and real leadership.
"Bob Dole and Jack Kemp look forward to debating Bill Clinton and Al Gore. Let the debates begin the week of September 23d and end the week of October 25th.
"President Clinton is a world-class debater; someone who can charm the birds out of the trees. We will be hard pressed to understand why the product would not want to debate Bob Dole, one-on- one, four times."'
Carroll Campbell
Robert Dole, Press Release - Statement by Governor Carroll Campbell, Chairman, Dole/Kemp Debate Online by Gerhard Peters and John T. Woolley, The American Presidency Project https://www.presidency.ucsb.edu/node/316703