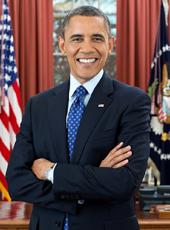 Press Release - State Rep. Wayne Ford Endorses Obama for President
All Four Members of Iowa's Legislative Black Caucus Now Back Obama
Des Moines, IA - State Representative Wayne Ford of Des Moines, the longest-tenured African-American in the history of the Iowa Legislature, announced today that he's throwing his support behind Senator Barack Obama's campaign for president. Saying Obama would be the strongest Democratic candidate in the general election and would address the challenges facing Urban America, Ford became the 20th Iowa state representative to back Obama. Ford's endorsement means that Obama now has more Iowa legislative endorsements than any other Democrat in the field - surpassing Clinton's total of 19.
"Barack's ability to win the support of Independents and Republicans means he'll both be our party's strongest general election candidate and a President who can successfully expand economic opportunity and access to affordable housing for every American - including those who live in urban communities," said Rep. Ford. "I am glad that Sen. Obama has invited me to be a part of his team as he looks at implementing his national urban agenda. This endorsement isn't just about my name. I intend to spend the next 11 days working to ensure that Barack Obama makes a strong showing on caucus night in Iowa and in the primaries that follow across the country."
Obama said he was honored to earn the endorsement of State Rep. Ford and said it would help his campaign continue to build momentum in Iowa. Obama previously secured the endorsement of the other three members of the Legislative Black Caucus: State Reps. Ako Abdul-Samad, Deborah Berry and Helen Miller.
"I am grateful to Rep. Ford for signing onto our campaign and adding his support and his voice to our team in Iowa," said Obama. "Rep. Ford has been leading the fight against rising incarceration and high school drop-out rates for years, and I'm glad he's agreed to be a leader for our campaign. We're building a statewide movement of Iowans from every corner of the state who are ready to put the divisive politics of the past behind us and bring to Washington the kind of change we can believe in."
Wayne Ford has served in the Iowa House of Representatives since 1997. He is a member of both the House Human Resources Committee and the House Economic Development Committee. In addition, he is Vice Chair of the House Government Oversight Committee and Community Outreach Chair of the House Appropriations Committee Ford is the executive director of Urban Dreams, which he founded in 1985, a United Way agency created to serve the needs of Iowa's under-privileged residents. Ford has received national acclaim for the Brown & Black Presidential Forum, the oldest Presidential debate focused on minority issues, which he co-founded and has co-chaired since 1984.
Including Rep. Wayne Ford, Senator Obama has received 20 endorsements from Iowa state legislators including Rep. Ako Abdul-Samad, Rep. Deborah Berry, Sen. Joe Bolkcom, Sen. Bob Dvorsky, Rep. Elesha Gayman, Sen. Bill Heckroth, Rep. David Jacoby, Rep. Pam Jochum, Rep. Helen Miller, Sen. Rich Olive, Rep. Donovan Olson, Rep. Tyler Olson, Rep. Janet Petersen, Rep. Brian Quirk, Sen. Tom Rielly, Rep. Paul Shomshor, Rep. Mark Smith, Sen. Steve Warnstadt, and Sen. Frank Wood. Iowa Attorney General Tom Miller and State Treasurer Mike Fitzgerald have also endorsed Senator Obama's campaign for change.
Barack Obama, Press Release - State Rep. Wayne Ford Endorses Obama for President Online by Gerhard Peters and John T. Woolley, The American Presidency Project https://www.presidency.ucsb.edu/node/292335