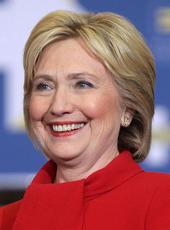 Press Release - Southern Nevada Elected Leaders Endorse Clinton
Hillary Clinton today received the endorsement of a trio of dynamic elected leaders from Southern Nevada communities -- Ricki Barlow, Councilman, City of Las Vegas; Dennis Keating, President, Nye County School District Board of Trustees; and Stephanie Smith, Councilwoman, City of North Las Vegas.
"During my time working on Capitol Hill I had the opportunity to see up close the leadership, ideas and personal passion that Hillary Clinton brings to the issues that matter most," said Barlow, who served as a legislative aide to U.S. Senator Richard Bryan during Bill Clinton's administration. "She is a true public servant who cares about people and community. She will be a wonderful president and I'm excited to work on her behalf in Nevada."
"It is with great pleasure that I endorse Senator Clinton," said Keating. "Hillary has been a champion for rural communities like the ones in Nye County. She has brought forward legislation to create good jobs and invest in education, health care and renewable energy sources to grow the economies of rural America. She strives to preserve the quality of life for all Americans. Her book "It Takes a Village" proves her lifelong commitment to our nation's next great leaders, our children. Americans are ready for a change - and in an outstanding field of Democratic candidates, I believe Hillary has the greatest ability to lead, to work with others, and to turn this great nation around from her first day in office."
"Hillary Clinton brings a keen intelligence and vision for this country that has been sorely missing," said Smith, a veteran civic leader who will seek the office of Mayor of North Las Vegas in 2009. "As a teacher I also appreciate how she has spent her career as a champion for children's issues -- without seeking credit, and long before she was in the public eye. Her experience and her heart make Hillary Clinton ready to lead. She is uniquely qualified to be president and I am proud to support her historic run."
Prior to his election as Las Vegas City Councilman this year, Ricki Barlow served as council liaison in the office of City Councilman Lawrence Weekly, where he was involved in neighborhood revitalization, public safety and economic diversification efforts. A native Nevadan, he has been involved in numerous community organizations, including recent service as a member of the Las Vegas Metropolitan Police Department Gang Task Force, Chairman of the Las Vegas Clark County Library District Board of Trustees, District Executive of the Boy Scouts of America and Director of WestCare Nevada's Welfare to Work program.
Dennis Keating has served on the Nye County School District Board of Trustees since 2003, and was elected president in 2007. He served as statewide Legislative Chair representing all seventeen Nevada counties in 2005 and 2007, and this year also served as the Federal Relations Network education representative in Washington, D.C. A Transportation Supervisor for the Clark County Department of Aviation, Keating is also an active volunteer for Boys & Girls Clubs of Southern Nevada, United Way Pioneer Territory and U.S. VETS, a public private partnership for homeless veterans. A professional musician, Keating also serves as a VFW bugler.
A former Nevada Assemblywoman, Stephanie Smith was first elected to the North Las Vegas City Council in 1997. She currently serves as Chair of the Southern Nevada District Board of Health, and is a member of the North Las Vegas Library District Board of Trustees, North Las Vegas Housing Authority and Southern Nevada Regional Planning Coalition. She is also Immediate Past President of the Nevada League of Cities and Municipalities. During her time in the Nevada Legislature, she was appointed to the Governor's Maternal and Child Health Board. A music educator in the Clark County School District, Smith also serves on the advisory board to Southern Nevada's National Public Radio affiliate, KNPR.
"We are deeply gratified to have these three extraordinary leaders working on behalf of Hillary Clinton in Nevada," said Clinton Nevada Chair Rory Reid. "Stephanie, Dennis and Ricki bring years of experience working in the diverse communities of Southern Nevada, and they know firsthand the issues that matter to western voters. Each brings great passion to their daily work on behalf of Nevada residents. Their experience, energy and organizing know-how will be incredible assets to the campaign."
Hillary Clinton, Press Release - Southern Nevada Elected Leaders Endorse Clinton Online by Gerhard Peters and John T. Woolley, The American Presidency Project https://www.presidency.ucsb.edu/node/292630