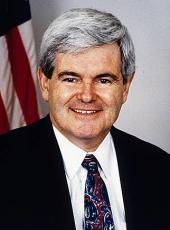 Press Release - South Carolina Legislative Endorsements For Newt Gingrich
Columbia, SC - Over two dozen current and former elected officials in South Carolina have announced their endorsement of Newt Gingrich ahead of tomorrow's South Carolina Republican presidential primary election.
They are: Speaker of the House Bobby Harrell, Majority Leader Kenny Bingham, Representative Liston Barfield, Former Lieutenant Governor Andre Bauer, Representative Eric Bikas, Representative Joan Brady, Representative Doug Brannon, Representative Kris Crawford, Representative Tracy Edge, Representative David Hiott, Representative Bill Hixon, Representative Dwight Loftis, Representative Phil Lowe, Representative Peter McCoy, Representative and Former Majority Leader Jim Merrill, Representative Dennis Moss, Representative Wendy Nanney, Former Superintendent of Education Barbara Nielsen, Representative Gene Pinson, Representative Josh Putnam, Representative Rick Quinn, Representative Roland Smith, Representative Mike Sottile, Representative Tommy Stringer, Representative Bill Taylor, Agriculture Commissioner Hugh Weathers, and Representative Mark Willis.
The endorsements kicked off a flurry of activity on the part of the officials to get out the vote and remind South Carolinians of the strength of Gingrich's candidacy.

 

In an email message to his supporters across the state entitled "Make History Tomorrow — Vote for Newt," South Carolina House Speaker Bobby Harrell referenced the significance of South Carolina's "tradition of selecting the Republican Presidential Nominee," and told voters that "Speaker Gingrich's tenacity and perseverance throughout this race has proven that he is the candidate best suited to take on Barack Obama in November."
Agriculture Commissioner Hugh Weather stumped with Gingrich at a packed event in Orangeburg, S.C.  and Majority Leader Kenny Bingham reached out to voters by writing "I endorse Newt Gingrich and am voting for him in the Republican Presidential Primary because of all of the candidates, Newt has a PROVEN record of delivering change for conservatives.  He has already brought Republican majorities, cut taxes, created jobs, balanced budgets, reformed entitlements and now, we need him to shake up Washington again."
Newt Gingrich, Press Release - South Carolina Legislative Endorsements For Newt Gingrich Online by Gerhard Peters and John T. Woolley, The American Presidency Project https://www.presidency.ucsb.edu/node/300017