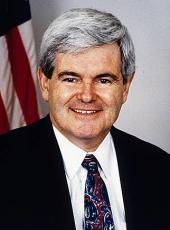 Press Release - South Carolina House Majority Leader Kenny Bingham Endorses Newt Gingrich
Lexington, SC – Kenny Bingham, SC House Majority Leader, announced his endorsement and support for Speaker Gingrich's presidential election bid.
A Republican legislator from Cayce, SC who has represented District 89 for nearly a decade, Rep. Bingham has emerged as one of the rising stars of the S.C. Republican Party thanks to his tireless work ethic, leadership skills and commitment to fiscal and social conservative values.
Kenny will be putting his tireless work ethic and political skills to work in support of the Gingrich campaign and will campaign throughout the state on behalf of the Speaker. Kenny said that he "was glad to join the team and believes that Newt's dedicated leadership can help rebuild this country. It will take bold leadership, new ideas and the ability to work within the system while simultaneously and drastically transforming it. I believe that Newt Gingrich is the right person for this critical time in our nation."
Speaker Gingrich said that he was "humbled and honored by Kenny's support. He is a voice for cutting taxes and responsible spending, and understands that we are in a perilous juncture in the history of our country. Now is the time for bold reform of the tax code, regulation and our energy policies to create jobs and economic growth, not timid changes that will do little to create jobs and buy into President Obama's rhetoric of class warfare."
Kenny is a member of the powerful House Ways and Means Committee which is responsible for drafting the state spending plan. Kenny is also one of the leaders who helped land Boeing, an important economic engine in the Lowcountry. Kenny reiterated the need for jobs and fiscal restraint, "Instead of spending money for growing government, the time has come to take a unified, cooperative approach to economic development. We've got to get South Carolina back to work and I believe that Speaker Gingrich's policies for economic growth can do just that!"
A successful businessman, Kenny is a licensed professional engineer and co-owner of American Engineering Consultants, Inc., which is based in his hometown of Cayce, S.C. A lifelong resident of Lexington County, Kenny is a graduate of the University of South Carolina and lives with his wife, Jennie Lynn and their twin daughters.
Newt Gingrich, Press Release - South Carolina House Majority Leader Kenny Bingham Endorses Newt Gingrich Online by Gerhard Peters and John T. Woolley, The American Presidency Project https://www.presidency.ucsb.edu/node/299486