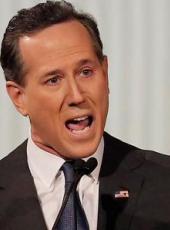 Press Release - South Carolina Endorsements for Santorum
Lancaster County, SC GOP Leaders Unite Around "the Candidate With Heart"
Lancaster, SC - Former Senator Rick Santorum (R-PA) announced today that his campaign for president has received the endorsement of Lancaster County, South Carolina GOP Leaders State Representative Deborah Long and County Chairwoman Sandy McGarry.
State Representative Deborah Long said, "Senator Santorum has a proven track record as a fiscal conservative. He has been in the forefront when it comes to welfare reform. Our Country needs strong leaders who will stand firm on the Judeo -Christian principles that we were founded upon and I believe that man to be Senator Rick Santorum."
Sandy McGarry said, "I am proud to endorse Rick Santorum for President. I am a mother and grandmother and we cannot leave them saddled with a burden that was not their doing. Rick Santorum has the courage and heart to put America back on the right track. He touched my heart at last week's Republican debate as a fighter who says what he believes and believes what he says. He comes to where the people are, not just where the cameras are. We cannot allow the media to dictate who the next president will be, and Rick Santorum has proven he will fight through that clutter and has the record to make America prosperous again."
Senator Santorum said, "I am honored to have Deborah's and Sandy's endorsement. They are leaders in Lancaster County and are seeing first-hand the roadblocks the Obama Administration have put up to impede prosperity in America. We need to put America back to work, and that starts in communities like Lancaster. I am committed to fighting for the people of Lancaster County and all of America as president, and fixing the failed policies of this Administration."
Lancaster County, SC was once the textile manufacturing hub of South Carolina; however, today unemployment in the county has skyrocketed to 15.3% and now one-fifth of the county's residents are living below the poverty line. Senator Santorum has focused his jobs plan on bringing back manufacturing jobs like those lost in Lancaster County. Senator Santorum's plan, which was endorsed by the PA Manufacturers Association, would eliminate the corporate tax for all U.S. manufacturers, eliminate burdensome regulations, and expand domestic energy exploration.
Senator Santorum spent Tuesday in Lancaster County, and will return to the county again this weekend.
Rick Santorum, Press Release - South Carolina Endorsements for Santorum Online by Gerhard Peters and John T. Woolley, The American Presidency Project https://www.presidency.ucsb.edu/node/297936