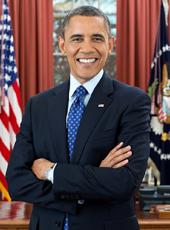 Press Release - Six More Democratic County Chairs Endorse Barack Obama for President
20 Democratic County Chairs Now Backing Barack Obama
Des Moines, IA -- The Obama Campaign today announced the endorsements from six more Democratic County

Chairs, bringing the total to 20 Democratic county chairs who have backed Senator Obama for

president. These local Democratic leaders from Audubon, Greene, Guthrie, Iowa, Sioux and Van Buren

counties will help build the grassroots movement in support of Obama's unique ability to unite our

country and bring about change we can believe in.
"Our country needs a President who will build consensus and bring people together," said Bob Nelson,

Audubon County Democratic Chair. "And that starts with a campaign that's open, honest, and

positive. From the way Barack Obama runs his campaign in Iowa, it's clear to me that he is the best

candidate to bring America the much needed change we need."
"While others may provoke negativity, the Obama campaign remains focused on its commitment to the

grassroots movement that builds upon our strengths, unites us, and inspires hope," said Greene

County Democratic Chair Nicole Friess-Schilling said. "Great leaders inspire us to be greater

people, and that is why I am supporting Barack Obama for president."
"When Barack Obama came to Guthrie County, Democrats, Republicans and Independents alike came out to

hear his message of hope," said John Cramer, Guthrie County Democratic Chair. "Americans need a

candidate that will unite people if we want to get anything accomplished in Washington, D.C.

Americans need Barack Obama."
"Democrats need a candidate who is ready to fight the special interests and work for everyday

Americans," Iowa County Democratic Chair Steve Hanson said. "Barack Obama's refusal to accept PAC

and federal lobbyist money show he's running a different kind of campaign, and will run a different

kind of White House. His commitment to reclaiming the American Dream can become a reality with his

unique ability to work across the aisle and accomplish true change. Barack Obama gives me and my

community hope, and he is the best candidate to bring our country together and bring the change

America so desperately needs."
"It is time for a president who has shown political courage in opposing the Iraq War, and who has

worked across party lines to achieve ethics reform," said Carl Vandermeulen, Sioux County Democratic

Chair. "Senator Obama is a man of integrity who will clean up Washington, D.C. and restore our trust

in the presidency again."
"Senator Obama is the one Democratic candidate who can bring our country together with his message

of hope and unity," said Steve Prickett, Van Buren County Democratic Chair. "A strong leader with

the vision to move us past the failed partisan politics of Washington, D.C., Barack Obama will

restore America's standing in the world and bring about change we can believe in."
Democratic County Chairs from across the state will play a vital role in Barack Obama's Iowa

campaign. Active in their local communities, these county chairs will provide advice and support to

the Obama campaign as they continue to build Obama's grassroots movement for change.
"To have the support of these community leaders is invaluable to our grassroots organization," said

Senator Obama. "This grassroots movement that will not only help us succeed on caucus night, but

also it will propel us forward to bring about change we can believe in."
The 20 Democratic County Chairs who back Barack Obama include:
Jim Jameson-Appanoose County Democratic Chair
Bob Nelson-Audubon County Democratic Chair
Ron Donald-Benton County Democratic Chair
Becky Lyon-Boone County Democratic Chair
Howard "Butch" Heisterkamp—Carroll County Democratic Chair
Vern Harper-Franklin County Democratic Chair
Brian Kingsolver-Fremont County Democratic Chair
Nicole Friess-Schilling-Greene County Democratic Chair
John Cramer-Guthrie County Democratic Chair
Gloria Goll-Hancock County Democratic Chair
Terry Kocker-Humboldt County Democratic Chair
Steve Hanson-Iowa County Democratic Chair
Buzz Malone-Lucas County Democratic Chair
Joe Judge-Monroe County Democratic Chair
Dennis Cole-Page County Democratic Chair
Chuck Wredt-Pott County Democratic Chair
Carl Vandermeulen-Sioux County Democratic Chair
Jan Bauer - Story County Democratic Chair
Steve Prickett-Van Buren County Democratic Chair
John Ralls-Winnebago County Democratic Chair
Barack Obama, Press Release - Six More Democratic County Chairs Endorse Barack Obama for President Online by Gerhard Peters and John T. Woolley, The American Presidency Project https://www.presidency.ucsb.edu/node/292331