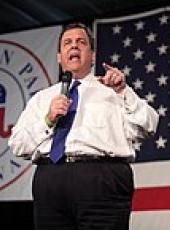 Press Release - Six Longtime New Hampshire GOP Leaders Endorse Christie for President
Today, Governor Christie received the endorsements of six former elected officials and longtime party leaders in New Hampshire, including:
Richard Brothers - Former State Representative (R-Thornton), Former NH Employment Security Commissioner (2004-2009)
Karen Hutchinson - Former State Representative (R-Londonderry)
Dennis Reed - Former State Representative (R-Franklin)
Dr. Robert Scott - Former State Representative (R-Newport), NHGOP Executive Committee (1990-2015), Founder of the Ronald Reagan Foundation for Future New Hampshire Leaders
Paul Simard - Former State Representative (R-Bristol), Former Chairman of the Grafton County Republican Committee
Elaine Swinford - Former State Representative (R-Barnstead), Former Chair of the House Criminal Justice and Public Safety Committee
"Governor Christie has demonstrated his dedication to caring for veterans by funding the veterans suicide hotline in New Jersey after the federal government ended the program," said Former State Representative Richard Brothers who helped lead the Veterans for McCain Coalition. "He is the best candidate for veterans, and he has the record to prove it."
"Governor Christie's common sense, plain-spoken leadership offers real solutions to the complex challenges and everyday frustrations of the American People," said Dr. Robert Scott. "He possesses a comprehensive understanding of the issues we face and the new direction we need to improve the quality of life for the citizens of our nation."
These New Hampshire leaders join a growing team of public supporters for Governor Christie's presidential campaign here in New Hampshire, including: State Representatives David Danielson (R-Bedford), Susan Emerson (R-Rindge), Bill Ohm (R-Nashua), Don LeBrun (R-Nashua), Jack Balcom (R-Merrimack), Betsy McKinney (R-Londonderry), and Jim Devine (R-Sandown), as well as New Hampshire business leaders Dick Anagnost and Bill Greiner, Former Executive Councilor and Concord Mayor Pro Tem Dan St. Hilaire, Rockingham County Commission Chairman Tom Tombarello, Rockingham County Commissioner Kevin Coyle, former New Hampshire GOP Chairman Wayne MacDonald, former US Attorney and Executive Councilor Tom Colantuono, former Executive Councilor and Nashua Mayor Bernie Streeter and Sheriff Scott Hilliard.
Chris Christie, Press Release - Six Longtime New Hampshire GOP Leaders Endorse Christie for President Online by Gerhard Peters and John T. Woolley, The American Presidency Project https://www.presidency.ucsb.edu/node/311579