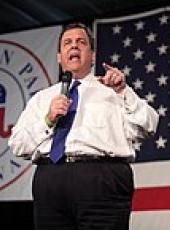 Press Release - Six Influential Iowa Business and Community Leaders Endorse Chris Christie For President
For Immediate Release:

Tuesday, September 29, 2015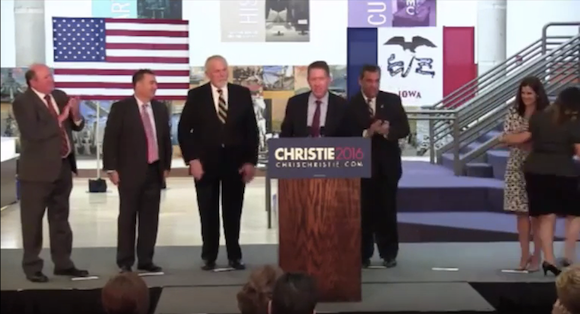 MORRISTOWN, NJ - Today, six influential business and community leaders from across the state announced their endorsement of Chris Christie for President. These leaders first approached Governor Christie in 2011 to try to convince him to run for President and are still backing his candidacy even with a fifteen person field. They are committed to making a difference in Iowa and across the country, and know Governor Christie is a bold leader that will fight for the American people.
Bruce Rastetter, CEO, The Summit Group
Denny Elwell, Chairman of Denny Elwell Company, LC
Gary Kirke, Chairman, Wild Rose Casino and Resort and Founder, Kirke Financial Services
Dr. Mike Richards, Vice Chairman of the Board of Directors of Wild Rose Casino & Resorts
Mikel Derby, Legislative Liaison for the Department of Transportation
Jim Kersten, Former Iowa State Senator
TRANSCRIPT:
RASTETTER: Thank you and good morning. It's really a pleasure to be here today and to talk a little bit about the opportunity in the country and where it's headed. And I think a number of you are aware that in 2011, a little over 4 years ago, a group of us went to New Jersey and we went to New Jersey because we were concerned about the direction of the country and what was happening and the opportunity for future generations going forward. And so a group of us led by Denny Elwell, Gary Kirke, Mike Richards, Jim Kersten, Mikel Derby, and myself, went and tried to encourage then an early, new-term Governor to run for President and we encouraged him to run for President because we believed he had a bold leadership style, he had conviction and principle, and he would make a great President and so as we think about four years later in today's cycle, all those same things hold even more true. We have a country that is in more decline than what it was four years ago. It is in more need for leadership - in terms of bold leadership, principled leadership - than certainly it was in 2011 and we have a Governor who continues to be bold and direct and knowing what he thinks, and also having more experience in governing since 2011 to create that much more positive opportunity for the country, so as we took our time and we looked at a broader field that's out there, and those that have the leadership and the conviction to be able to be president, it became very clear to us that that same reason that we flew to New Jersey in 2011 exists today in even a greater way, that we have decided that we want to move forward endorsing Chris Christie for president. And we want other Iowans, other Iowans, to have an opportunity early on to be able to meet Chris Christie and have those kind of conversations that you had last night like at the town hall that we had, where they can see that kind of leadership, they can see the principle. But more importantly I think along with that, see a definitive response as to detail of how you're going to solve this country's problems and how actually Washington can go from being dysfunctional to functional because it actually has to operate and accomplish things. So with that, it's indeed my pleasure, as part of our group, to introduce to you the person that we think will be the next President of the United States, Chris Christie.
Chris Christie, Press Release - Six Influential Iowa Business and Community Leaders Endorse Chris Christie For President Online by Gerhard Peters and John T. Woolley, The American Presidency Project https://www.presidency.ucsb.edu/node/311578