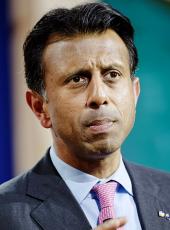 Press Release - Seven Things You Didn't Know About Bobby
He first asked his wife out in HS. She said no:
In high school, Bobby asked Supriya out, but was kindly turned down. Both of them moved on, graduated high school and went on to college, Bobby to Brown and then on to Oxford as a Rhodes Scholar, while Supriya got a chemical engineering degree and an MBA from Tulane. In 1996, when his Mardi Gras ball date cancelled, Bobby found Supriya's number, called her and left a message saying, "If you're married, delete the rest of this message, but if you're not, give me a call back." A few months later Bobby proposed, and the rest is history.
Call me Bobby:
Growing up, Governor Jindal loved The Brady Bunch. Everyday after school he would watch, and instantly identified with the youngest Brady boy, Bobby. As a 4 year old, the Governor decided to rename himself after his favorite TV character. One day his teacher told his mother, 'Well, your son has got a new name.' His self-imposed nickname stuck and he has been Bobby Jindal ever since.
Daily Routine:
Being governor and being a dad is a non-stop job. Natural disasters, baseball games, last second meetings; no two days are the same. Try as he might, the new challenges each day brings can't be predicted. In the midst of the job, two things are consistent in keeping the governor going: daily exercise... and daily chocolate chip cookies. Bobby starts each morning with a hard workout, and recovers with a recovery meal of chocolate, carbs and sugar. Bobby is a scientific anomaly; and scientists should probably study him.
Dr. Jindal:
Growing up, Bobby's dad always told him he could study whatever he wanted to in college. When Bobby inquired about studying, history, or philosophy or art history, his father replied, "No you can be whatever kind of doctor you want to be." Growing up, Bobby always planned on being a doctor, but in college as a pre-med student, he took more of an interest in healthcare policy than healthcare practice.
Father Jindal:
Bobby was raised Hindu, and converted to Christianity in high school. When he received a personalized Bible as a birthday present he dismissed it as a boring gift that he couldn't even re-gift. Friends grew tired of trying to convert him, but they didn't give up. Throughout high school, Bobby wrestled with the Lord and the work that He was doing in his life. He dug out his Bible and read it cover to cover. In high school, while watching a grainy film about the Crucifixion of Jesus, Bobby surrendered his life to Christ and has never looked back.
Dr. Jindal Part 2:
While Bobby never attended medical school, that didn't stop him from successfully delivering a baby in 2006. It wasn't just any baby, but his youngest son Slade. Meticulous planning was thrown out, and speeding to the hospital wasn't an option. With a little coaching from the 911 operators, Bobby delivered a healthy 8-pound baby boy in his bathroom.
Snack shop
In high school, Bobby could be seen at LSU home football games, not because his family had season tickets, but because he worked in the concession stands. It was just another example of Bobby working for everything he ever got.
Bobby Jindal, Press Release - Seven Things You Didn't Know About Bobby Online by Gerhard Peters and John T. Woolley, The American Presidency Project https://www.presidency.ucsb.edu/node/311921