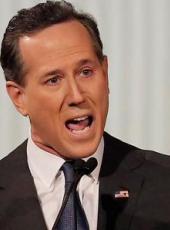 Press Release - Senator Santorum Launches the "Faith, Family and Freedom Tour"
Santorum To Deliver Three Major Policy Speeches
Verona, PA - As former Senator Rick Santorum (R-PA) completes public events in all of Iowa's 99 Counties, his campaign for President is just getting warmed up - announcing the beginning off the Faith, Family and Freedom Tour.
During the Faith, Family and Freedom Tour, the Senator will travel the early primary states of Iowa, New Hampshire and South Carolina holding town halls. He will address the issues facing our nation and outline solutions that a President Santorum would work to implement - focusing on returning to traditional American values of faith and family; promoting freedom via economic security and stability; energy independence and securing our nation from international threats.
Along the way, he will deliver the three major policy speeches - the first of which will be this Friday, November 3rd, in Des Moines, Iowa.
What: Santorum begins Faith, Family and Freedom Tour and delivers major policy speech
Topic: Moral, Cultural Policies for a Santorum White House
When: Friday, November 4 at 11:30 am CST
Where: Santorum for President Headquarters
11197 Aurora Ave.
Urbandale, Iowa 50322
Senator Santorum said: "It's a huge milestone for this campaign to hold events in all of Iowa's 99 counties - and I couldn't be prouder of my grassroots volunteers and Iowa supporters who helped make this happen. However, this 99th county isn't the end, it's the beginning, and we're just getting warmed up. I have listened to people in every corner of Iowa - I realize now more than ever that Iowans are similar to the people of New Hampshire and South Carolina - in that they are looking for a leader to articulate a conservative vision for the future of this country and for that leader to offer concrete solutions to restore America's greatness. I believe I am that leader."
"America is going through a trying social and economic crisis with uncertain and unclear national security policy. After three years of Barack Obama, America is now looking for a president who will helprestore an America that believes in her people rather than big government intrusion. If Barack Obama has taught us anything - it's that experience matters. I am running for president because I believe in the American people, I believe in the founding principles of faith, family and freedom, and I believe that America can once again be the guiding light for the world."
Hogan Gidley, National Communications Director, said: "The next president must have the trust of the American people and must possess experience, knowledge, and ability to lead this nation forward. A President Santorum will be able to successfully address all major issues that confront this nation - the economic, the national security and the moral, cultural issues. The press would have you believe that the only issue is the economy - and yes, the economy is certainly a pressing issue - however, to have debates with no questions about the threat of a nuclear Iran and no questions about preserving the traditional American family is a disservice to American people. I will remind folks that in 2008, only one candidate - Tommy Thompson - received the lone health care related question in the presidential debates, and now, healthcare is the cornerstone issue of this election season. We must have a president ready to deal with all issues that come across his desk, and Rick Santorum is the one candidate prepared to do just that."
Rick Santorum, Press Release - Senator Santorum Launches the "Faith, Family and Freedom Tour" Online by Gerhard Peters and John T. Woolley, The American Presidency Project https://www.presidency.ucsb.edu/node/297883