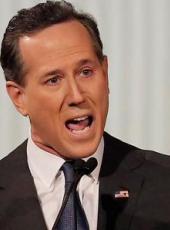 Press Release - Senator Santorum Dominates CNN/Tea Party Debate
Santorum shows that he is the only Rick in the race who will stand up for conservative principles and win!
Verona, PA - Tonight in Florida, former Senator and current Republican Presidential Candidate Rick Santorum (R-PA) proved he's the one conservative who has both the courage to lead and the ability to defeat Barack Obama.
Hogan Gidley, National Communications Director said, "Senator Santorum took Governor Perry and the rest of the GOP field head on and won. Whether it was Governor Perry's unconscionable mandate for HPV vaccines or his 'embrace' of an open border with Mexico, Senator Santorum took on the presumptive front-runner and exposed his flawed policies for what they are, and repudiated Congressman Paul for his reprehensible belief that America is to blame for 9/11. Unlike Governor Perry who switch political parties out of convenience or Governor Romney who switched philosophies out of expedience, Senator Santorum has never switched from being a conservative Republican. Senator Santorum unapologetically stood tall for conservative principles, American exceptionalism, and individual liberties - distinguishing himself as the only candidate prepared to not only take on President Obama, but govern from day one."
Santorum said:
ON WHETHER HE SUPPORTS PERRY OR ROMNEY ON SOCIAL SECURITY:
The real question is "who's with me?"
It is Rick Santorum who has the track-record of standing up and leveling with the American people that Social Security needs to be reformed. It was Rick Santorum in 1994, 2005, and today who has taken this message to the people that we need to reform the Social Security system for today and future generations.
ON HEALTH CARE AND MEDICARE REFORM:
"I trust you. I trust the American people to make their own choices for healthcare."
ON THE ECONOMY:
"Some people up here think Barack Obama's economic policy is a disaster - I disagree, he's got to improve a great deal to be considered a disaster."
ON JOBS:
"I want 'Made in America' stamped again!"
Rick Santorum's plan to bring manufacturing jobs back to America by eliminating the corporate tax for manufacturers, reduce the regulatory burdens on business, and expand energy exploration has been endorsed by the Pennsylvania Manufacturers' Association as the best plan to put America back to work.
ON PERRY AND HPV VACCINES:
"Governor Perry, I believe your policy is wrong... this is big government run amuck... Give parents the 'opt in," not the 'opt out."
"So let's be clear what Gov. Perry just said. He's said anything he's for the policy; he just went about enacting it the wrong way."
ON AMERICAN EXCEPTIONALISM
"I believe in American exceptionalism and I am not ashamed to say so!"
Rick Santorum, Press Release - Senator Santorum Dominates CNN/Tea Party Debate Online by Gerhard Peters and John T. Woolley, The American Presidency Project https://www.presidency.ucsb.edu/node/297871