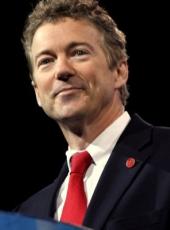 Press Release - Sen. Rand Paul Introduces Legislation to Prevent Terrorists From Entering the U.S. as Refugees
WASHINGTON, D.C. - U.S. Senator Rand Paul today announced legislation that would suspend visa issuance for countries with a high risk of terrorism and impose a waiting period for background checks on visa issuance from other countries until the American people can be assured terrorists cannot enter the country through our immigration and visa system. This legislation is based off language first proposed by Sen. Paul in 2013.
"The time has come to stop terrorists from walking in our front door. The Boston Marathon bombers were refugees, and numerous refugees from Iraq, including some living in my hometown, have attempted to commit terrorist attacks. The terrorist attacks in Paris underscore this concern that I have been working to address for the past several years. My bill will press pause on new refugee entrants from high-risk countries until stringent new screening procedures are in place," Sen. Paul said.
Sen. Paul's legislation would suspend issuance of visas to nationals of countries with a high risk of terrorism until the U.S. Department of Homeland Security (DHS) certifies and Congress votes to approve that:
1) Aliens already admitted from high-risk countries have been fingerprinted and screened, pose no terrorist risk, and are being monitored for terrorist activity
2) Enhanced security measures are in place to screen future applicants and prevent terrorists from entering the country
3) DHS' visa entry-exit system is 100 percent complete and a tracking system is in place to catch attempted overstays
Additionally, the legislation would impose a 30-day waiting period for all entries to the U.S. in order for background checks to be completed, unless the traveler has been approved through the Global Entry program. This requirement will be lifted after DHS certifies and Congress approves that:
1) Screening of entrants is sufficient to prevent terrorists from entering the country
2) DHS' visa entry-exit system is 100 percent complete and a tracking system is in place to catch attempted overstays
Rand Paul, Press Release - Sen. Rand Paul Introduces Legislation to Prevent Terrorists From Entering the U.S. as Refugees Online by Gerhard Peters and John T. Woolley, The American Presidency Project https://www.presidency.ucsb.edu/node/316646