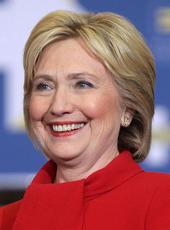 Press Release - See What the Last Nine Months Have Looked Like in Iowa—through the Eyes of an Organizer
These photos tell the story of Hillary for Iowa.
For the last nine months, the Hillary for Iowa team has been using the hashtag #ISpyIowa to document their travels across the Hawkeye State as they canvassed, phone banked, and organized to help Hillary Clinton win the Iowa caucus.
There is nothing more beautiful than engaging with purpose, organizing with heart, and winning every single day.
#ISpyIowa (gray's lake -- or gary's lake -- in beautiful des moines) pic.twitter.com/V6mbjzNzMP— Greta Carnes (@gretacarnes) May 12, 2015
Can't beat it. #ISpyIowa pic.twitter.com/fjpbx6PwNr— Adin Lenchner (@adinofacollege) May 14, 2015
Beautiful day in Boone county organizing for @HillaryforIA! #ISpyIowa pic.twitter.com/JbQTiiFBJx— Rob Bingham (@robbinghamIA) May 28, 2015
But when they were done taking in the view, Team Iowa got to work—wherever they could find a spot.
My "corner office" at North Side Cafe. What a view for call time! #ISpyIowa #Hillary2016 pic.twitter.com/liFqwPR3XR— Michael M. Kimmelman (@Kimmelmonster) May 12, 2015
And when they did get an office, a Hillary supporter who lived in the neighborhood helped them furnish it.
Thanks Sally for letting @DianaBonete and I raid your barn for office furniture! #ISpySally #ISpyIowa pic.twitter.com/eS8vobcKxF— Sarah Andrews (@sa_elizabeth) June 1, 2015
But that didn't keep them from working outside—the Iowa summer is just too beautiful for organizers to stay indoors!
Nice day in #Iowa to work outside and google hangout with some @HillaryforIA organizers! #ispyiowa @adinofacollege pic.twitter.com/EsqgGP4VlE— Lillie (@lilliecatlin) May 28, 2015
Plus, they had to start knocking on doors and collecting commit cards. The election was only eight months away!
Just met with @JVollmer08 at @Javajoescoffee #Hillary2016 #ISpyIowa pic.twitter.com/0eoTO5BwXN— a Brian Wilson (@TheNiceBrian) May 16, 2015
Thankfully, thousands of people came on board to help Hillary win in Iowa.
#ispyiowa #FellowsIA pic.twitter.com/b4dkGVtvZa— Andrew White (@Andrew_White415) June 27, 2015
Room full of fellows organizing Iowa City for @HillaryClinton. #ISpyIowa pic.twitter.com/ngbWYTwnaN— Patrick Burgwinkle (@Burgwinkle) July 1, 2015
Some animals even got in on the fun!
I feel like this raccoon wants to help me with calls. #CrittersForHillary #FellowsIA #ISpyIowa pic.twitter.com/81ziK7ZroL— Shrija Ghosh (@ShrijaGhosh) July 2, 2015
I know it's call time, but first llama take a selfie #Llamas4Hillary #ISpyIowa pic.twitter.com/RyEwx2Nl93— Sara Marino (@smarino92) May 17, 2015
The Hillary for Iowa crew worked hard ?
From San Francisco to Iowa! So excited to have Suhas here for the week volunteering for @HillaryforIA #ISpyIowa pic.twitter.com/m3k2ojuk9o— Sarah Horvitz (@Horvitastic) August 11, 2015
Spending today at Perky Parrot in Algona!! Just met with Betty who is in for #Hillary2016! #TravelTuesday #ISpyIowa pic.twitter.com/fVnKTNEZjR— Shrija Ghosh (@ShrijaGhosh) July 14, 2015
Rly enjoyed meeting fellow supporters at our #HillaryforIA office opening in Iowa City! #ThankYou #ISpyIowa pic.twitter.com/tEpi828LNK— Stephanie Yoon (@stephaniesyoon) July 16, 2015
?? but they played hard, too.
A night out in Des Moines #ISpyIowa #IAfellows pic.twitter.com/bkXJhKfWZy— Mikia Manley (@mikia_manley) August 8, 2015
?And at some events, like the Iowa State Fair, they got to do both at the same time.
#ISpyIowa pic.twitter.com/MLAcp6prAt— Casey Clemmons (@Casey_Clemmons) August 24, 2015
Love the @IowaStateFair #IowaStateFair #iSpyIowa pic.twitter.com/YMAxMS2Fzp— Roneil Jackson (@RoneilJackson) August 20, 2015
And as the leaves began to change ?
Canvassing pit stop at the pumpkin patch with @emilieswp! #ISpyIowa ???????? pic.twitter.com/e47IgotH4p— Emily Allen (@emily0allen) October 17, 2015
The perfect Friday. #HRCanvass #ISpyIowa pic.twitter.com/bQV8WhQyG9— Sara Kirshbaum (@skirshbaum) November 6, 2015
?? and snow started falling ?
The view from my backyard here in Mt. Pleasant. #ispyiowa pic.twitter.com/cwUJ48oXCJ— Rachel Cowell (@rcowell14) November 21, 2015
Not a bad view from our @HillaryforIA phonebank! #ispyiowa pic.twitter.com/ilnb7Ym2Nm— Sylvia Yacoub (@yacoub_sylvia) January 14, 2016
? Hillary for Iowa never lost the excitement of those summer days.
Flashback from today- Can't stop won't stop #BelowZero #ispyiowa pic.twitter.com/FpHDYnDPlq— Sam Sorscher (@Ssorsch) January 18, 2016
And on the night before the Iowa caucus, they couldn't resist capturing one last Iowa sunset—and one last canvass.
GOTC rural canvass = beautiful!! #ISpyIowa #Hillary2016 #nofilter #HRCanvass pic.twitter.com/AIF828HRKY— SarahPaden (@PadenSarah) January 31, 2016
This tweet says it best.
#ISpyIowa pic.twitter.com/SDWkomGouX— Casey Clemmons (@Casey_Clemmons) December 19, 2015
See all of the tweets by checking out the #ISpyIowa hashtag (or clicking here!)
Hillary Clinton, Press Release - See What the Last Nine Months Have Looked Like in Iowa—through the Eyes of an Organizer Online by Gerhard Peters and John T. Woolley, The American Presidency Project https://www.presidency.ucsb.edu/node/317061