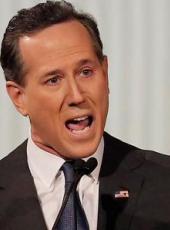 Press Release - Santorum is the "Only One"
New National Radio Ad Makes It Clear That Santorum Is The Clear Conservative Alternative To Romney
Verona, PA - The Rick Santorum for President campaign released a new national radio ad focusing on why Congressman Gingrich was not able to capitalize on his South Carolina victory, and why Rick Santorum is the one consistent, conviction conservative able to stop Mitt Romney and defeat Barack Obama.
To Listen To: "One One"
http://www.ricksantorum.com/blog/2012/01/audio-rick-santorums-new-radio-ad-only-one
Script: "Only One"
Female Voice Over:
The following is an important message for all true conservatives and tea party supporters.
Male Voice Over:
The Florida results are in, and despite spending millions; Newt Gingrich went from a big lead to a big defeat. Why? Because voters discovered Gingrich wasn't a true conservative.
Like Romney, Gingrich supported the Wall Street bailouts, job killing Cap and Trade...and radical healthcare mandates. Gingrich even supports giving some illegals amnesty.
It's time for conservatives and tea party supporters to unite behind the true conservative that can stop Romney, and defeat Obama...Rick Santorum.
Santorum is rock solid on the social issues. He opposes amnesty, mandates, and the bailouts. And Santorum successfully reformed welfare, moving millions from welfare to work.
Rick Santorum...he doesn't just talk a good conservative game...he lives it. Go to ricksantorum.com and join the fight.
Paid for by Rick Santorum for President.
Rick Santorum:
I'm Rick Santorum, candidate for President, and I approve this message.
Rick Santorum, Press Release - Santorum is the "Only One" Online by Gerhard Peters and John T. Woolley, The American Presidency Project https://www.presidency.ucsb.edu/node/300311