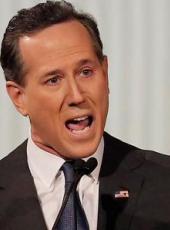 Press Release - Santorum Takes It Right to Romney in Wisconsin
On the eve of the Supreme Court hearings on Obamacare, Rick Santorum went on the offensive in Franksville, Wisconsin and exposed exactly how Mitt Romney is uniquely disqualified to contrast President Obama on the most important issue of day, healthcare. In fact, Rick Santorum spoke plainly and clearly that of all the Republicans in the field, Mitt Romney is the worst possible candidate to take on Barack Obama, because Mitt Romney authored the blueprint for Obamacare and the issue of healthcare would be off the table.
Rick Santorum said, "I have said many times that one of the main reasons I got into the race was because of Obamacare - and what it has done to this country's freedoms. And since we all now know that Mitt Romney wrote the blueprint to Obamacare, this makes Romney uniquely unqualified to be our nominee because he can't credibly attack Obama for passing the very bill Romney himself wrote. By now, everyone knows I'm passionate about defending our freedoms - and so are most Americans when they realize what's happening to our freedoms."
Hogan Gidley, National Communications Director, said: "Mitt Romney is the father of Obamacare. Conservatives know that Obamacare is the single biggest issue in this campaign. And conservative columnists like Jennifer Rubin of the Washington Post have so accurately noted, 'Romney's defense of RomneyCare renders him all but unelectable.' Even Democrats already know the healthcare issue is a huge problem for Mitt Romney - and Senior White House Advisor David Plouffe said today that 'Mitt Romney was the Godfather of Obamacare.'
Mitt Romney not only authored the model of ObamaCare, but he advised Barack Obama in op-eds and in television interviews to follow his lead on the national level. We need a candidate who can set a clear contrast to Barack Obama this fall, so why select the candidate who first pushed the individual mandate? Rick Santorum is the one candidate who has been the defender of free-market health care, and he is the one candidate prepared to take on Barack Obama this fall."
Rick Santorum, Press Release - Santorum Takes It Right to Romney in Wisconsin Online by Gerhard Peters and John T. Woolley, The American Presidency Project https://www.presidency.ucsb.edu/node/301298