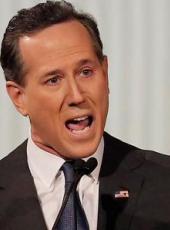 Press Release - Santorum Scores Knockout in Vegas Main Event
Santorum shows he has the "Courage to Fight for America"
Las Vegas, NV - At tonight's CNN debate in Las Vegas, NV, Senator Santorum (R-PA) showed again that he is the one conservative ready to take the fight to President Obama.
Hogan Gidley, National Communications Director, said: "As Rich Lowry of National Review tweeted, Senator Santorum was the first contender to have a critique of Governor Romney that 'cut,' but Senator Santorum's strong debate performance didn't stop there. Senator Santorum rightly pointed out that Herman Cain's 9-9-9 plan would raise taxes on 84% of Americans, pushed Governor Romney to admit he didn't get healthcare costs down while Governor of Massachusetts by instituting Romneycare, and discussing his opposition to the Wall Street Bailouts while both Herman Cain and Governor Perry have flip-flopped on their support of TARP."
At the conclusion of the debate, the Santorum Campaign handed out copies of both Governor Perry's October 1, 2008 letter in support of the Wall Street Bailouts as well as Herman Cain's October 20, 2008 op-ed in support of TARP - which are contrary to the positions both Perry and Cain attempted to portray during the debate.
ON HERMAN CAIN'S 9-9-9 TAX PLAN:
"84% of Americans would pay more taxes under Herman's plan. When you don't provide standard deductions, when you have an income tax, when you have a sales tax, and as Michele (Bachmann) said, when you have a value-added tax, we are talking about major increases in taxes."
JOBS
"I have put forward the plan that allows for income mobility so that people can rise in society.... I believe that is because we have lost our manufacturing base, we don't have made in America stamped on things anymore."
ON ROMNEY REPEALING OBAMACARE
"You just don't have any credibility on repealing Obamacare. You have no track record that we can trust."
"Mitt, the Governor of Massachusetts just came forward that they have to pick up the job left undone by Romneycare. You focused on the wrong problem with a top down approach."
ON ATTRACTING LATINO VOTERS
"The basic building block is not the individual, it is the family. The Latino community understands the bonds of family and faith. The Latino community understands that someone needs to stand up and defend those institutions."
ON HOUSING CRISIS
"Problem is you all (Herman Cain, Governor Romney, and Governor Perry) supported TARP and the government tried to inject itself and top-down manage the decline. The folks who acted responsibly are paying the price and we need to let markets work."
ON FAITH IN THE PUBLIC SQUARE
"I think voters should pay attention to a candidates values, and the person's faith and what that faith teaches."
ON DEFENSE SPENDING
"I would absolutely not cut one penny of defense spending... the first duty of the president is to protect us. We should have all the resources in place to defend our borders, to engage in foreign countries to succeed. That is the problem with this Administration is that they have political objectives."
ON ELECTABILITY
"I have won the swing state of Pennsylvania twice... I beat a Democratic incumbent in 1994 and in 2000 I won in a year President Bush lost by 5 points, I won by 6."
Rick Santorum, Press Release - Santorum Scores Knockout in Vegas Main Event Online by Gerhard Peters and John T. Woolley, The American Presidency Project https://www.presidency.ucsb.edu/node/298865