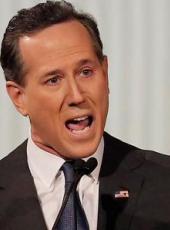 Press Release - Santorum Proves Experience Matters
Senator Shows He's The One Candidate With The Foreign Policy Experience, Foresight, and Conviction To Be Commander-in-Chief
Spartanburg, SC - At this evenings CBS/National Journal presidential debate, former Pennsylvania Senator Rick Santorum (R-PA) showed that his experience of 8 years on the Senate Armed Services Committee, authorship of the Iran Freedom and Support Act, and authorship of the Syria Accountability Act separates him from the rest of the GOP field.
Hogan Gidley, National Communications Director, said: "Senator Santorum was strong, decisive, and knowledgeable of the threats facing our nation - the exact qualities we need in the next commander-in-chief. If Barack Obama has showed us anything, it's that experience matters and Rick Santorum has that experience. Rick Santorum has stood up to Iran, Rick Santorum has stood up for Israel, and Rick Santorum is ready to lead on day-one."
SANTORUM SAID:

On Victory On Afghanistan:

"Victory against the Taliban is when the Taliban is a neutered force and no longer a threat."
On Iran:
"We should all be asked this question because this (Iran) is the most important national security threat we will deal with. I have been working on Iran since 2004 and I proposed what Mitt Romney and Herman suggested. I was opposed by Bush but we were able to pass the Iran Freedom and Support Act (to implement sanctions and funding for pro-democracy movements). But now, I disagree with Newt that more sanctions and pro-democracy funding will be enough. We should be working with Israel to help them do what they did in Syria, take out Iran's program before the next explosion we hear is a nuclear one."
On Pakistan:
"Pakistan must be a friend because they are a nuclear power. We cannot be indecisive, we must engage them as friends, get over the difficulties we have ... We need to work with elements in the government and military, and continue the relationship."
On Leadership and His Administration:
"I will come into the office with a clear agenda and get people together who share my point of view. In my office, I didn't hire people who didn't share my approach to a problem. As you hear from my answers, you know what I believe and I follow through. I say what I'll do and do what I'll say. I will hire people who will execute my agenda."
On Reversing Obama Executive Orders:
"Gitmo is essential to leave open, we have to use enhanced interrogation and it has proven successful. Using civilian courts is one of the worst ideas I've ever heard. It's (civilian courts) for people given rights under our Constitution and foreign combatants don't have those rights."
Rick Santorum, Press Release - Santorum Proves Experience Matters Online by Gerhard Peters and John T. Woolley, The American Presidency Project https://www.presidency.ucsb.edu/node/298791