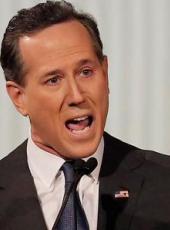 Press Release - Santorum Outlines Plan to Stop Iranian Nuclear Aggression
The One Candidate With The Knowledge, Record And Foresight To Deal With Iran
President Barack Obama naively and cavalierly once declared Iran as a "tiny country" that did not pose a serious threat. However, the report issued by the International Atomic Energy Agency (IAEA) now shows that these radical Islamists are on the verge of having a nuclear weapon.
If Barack Obama has taught us anything, it's that experience matters. Rick Santorum has that experience - serving 8 years on Senate Armed Services Committee, authoring the Iran Freedom and Support Act and the Syrian Accountability Act. In fact, Rick Santorum has recognized the looming threat of Iran's nuclear ambitions for nearly a decade - standing tall against both Republicans and Democrats who have discounted and dismissed the reality that this radical theocracy is intent on destroying Israel and western civilization.
Santorum Administration's Response To Iran:
Reinstate full funding authorized under the Iran Freedom and Support Act to assist pro-democracy groups within Iran
Bring greater attention to human rights violations of the Iranian regime against democracy protestors and minority religious groups
Would work with Israel to eliminate the Iranian nuclear threat immediately; and developing a potential plan for military action if needed
Would work with Israel to determine the proper military response needed to stabilize the region, protect our allies and protect this country - including the authorization of targeted airstrikes on Iranian nuclear facilities.
Any nuclear scientist proven to be working for Iran's nuclear program would be treated as an enemy combatant
Help create Strike Funds to help organizers on the ground publicly protest and overthrow the regime
Economically target Iran by sanctioning Iran's central bank coupled with opening all forms of energy production in the U.S effectively devastating Iran's only economy
Ensure Iranian officials cannot access any of their funds by freezing bank accounts and significantly limit their travel by revoking visas
Refuse to negotiate on any level with the terrorist state of Iran
Neutralize Iran's relationships with their primary allies in The Middle East by increasing pressure on Hezbollah and Syria
Eliminate the post of U.S. Ambassador to Syria
Stand with Israel as an ally and in any efforts Israel may take to defend themselves from Iranian aggression
Would push for, fully fund and build a comprehensive missile defense system, and reevaluate the ramifications of the START Treaty
Authorize more research on the Electromagnetic Pulse (EMP) Threat
Develop a National Prevention Plan to prevent a severe terrestrial and space emergencies that would take down our information systems or electrical grids


During his time in elected office, Rick Santorum was the national leader and ahead of the curve on identifying and proposing real solutions to deal with the threat of a nuclear Iran:
Served on the Senate Armed Services Committee for 8 years, where he worked to transform the military from a Cold War force into one prepared to deal with the threats of today and tomorrow;
Author of the Iran Freedom and Support Act, which imposed real sanctions on the Iranian regime and authorized $100 million in annual funding for pro-democracy movements within Iran; and,
Author of the Syria Accountability Act to combat the threat Syria posed to Israel.
Rick Santorum, Press Release - Santorum Outlines Plan to Stop Iranian Nuclear Aggression Online by Gerhard Peters and John T. Woolley, The American Presidency Project https://www.presidency.ucsb.edu/node/298775