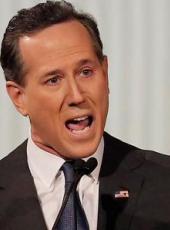 Press Release - Santorum Goes On-Air With First Radio Ad in Iowa
If Obama Has Taught us Anything, it's Experience Matters
Verona, PA - Former Senator Rick Santorum (R-PA) released his first radio advertisement campaign in Iowa today with his ad - "Agree."
In the ad, Senator Santorum points out where he and his fellow Republican contenders don't "Agree", butSantorum makes it clear that they do agree on one important issue - defeating Barack Obama in 2012. It's critical that Republicans nominate a contender who has the experience on fiscal, social, and national security issues to lead this nation forward.
Hogan Gidley, National Communications Director, said: "Senator Santorum's experience in reforming welfare, ending partial-birth abortions, and standing up for the security of our country makes him the best prepared candidate to lead America from day one. If Obama has taught us anything, it's that experience matters - and Sen. Santorum has it."
To listen to "Agree":

http://www.ricksantorum.com/blog/2011/10/rick-santorums-new-radio-ad-agree
"Agree" Script:
"This is Rick Santorum, and if you've watched the presidential debates, you know we're not shy about disagreeing. Mitt Romney and I disagree on his government run Romneycare. I think Rick Perry isdeadwrong trying to give taxpayer funded in-state college tuition rates to illegal aliens. And I thought the Wall Street bailouts were a terrible idea while Herman Cain strongly supports the bailouts. But we all agree on one thing, Barack Obama has to go and if there's anything we've learned from his failed presidency, it's that experience matters. That's why I hope you'll visit RickSantorum.com and learn about how I successfully led the fight to reform welfare, my critical foreign policy experience having served 8 years on the Armed Services Committee, and how I ended partial-birth abortions in America. This may be the most important election of our lifetime, so I encourage you to visit RickSantorum.com. This is Rick Santorum, candidate for President, and I approve this and any other message that will help defeat Barack Obama. Paid for by RickSantorum for President."
Rick Santorum, Press Release - Santorum Goes On-Air With First Radio Ad in Iowa Online by Gerhard Peters and John T. Woolley, The American Presidency Project https://www.presidency.ucsb.edu/node/298739