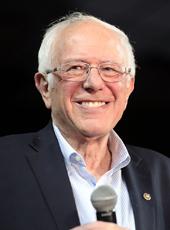 Press Release - Sanders Puts Social Security Challenge to Clinton
WASHINGTON – Sen. Bernie Sanders on Wednesday urged Hillary Clinton to back a plan endorsed by leading Democrats and seniors' advocates to strengthen Social Security.
Sanders has introduced legislation to make the wealthiest Americans who make more than $250,000 a year pay the same share of their income into the retirement system as everyone else. Current law now caps the amount of income subject to payroll taxes at $118,500.
Sanders' plan is patterned after a proposal to scrap the cap first brought forward by President Barack Obama in 2008. Senate Minority Leader Harry Reid of Nevada in the last session of Congress was a cosponsor of Sanders' legislation to scrap the cap on the payroll tax.
"I hope Hillary Clinton joins us because I believe that we've got to stand with seniors," Sanders said. "We need not only to extend social security benefits, we need to expand them," he added.
Social Security is the subject of a new television ad being released on Wednesday to stations in Iowa and New Hampshire, where polls show Sanders gaining ground or leading Clinton. "I hope we can keep this campaign focused on the important issues facing our country including the economic security of seniors and disabled veterans."
Pressed repeatedly, Clinton has stopped short of endorsing the proposal. She also has left open the possibility that she would support raising the retirement age at which seniors become eligible for Social Security. "I would consider it," she told a town meeting in New Hampshire last Oct. 28.
Under Sanders' plan, a senior making less than $16,000 a year would see income go up by more than $1,300. On average, Social Security benefits would go up by an average of $65 a month.
The measure also would increase cost-of-living adjustments. This year, for only the third time in 40 years, seniors on Social Security are not receiving a cost-of-living increase. Sanders' legislation would increase COLAs by accurately measuring the spending patterns of seniors. Under current law, the consumer price index used to calculate annual benefit adjustments does not accurately reflect how inflation in health care costs and prescription drug prices impact seniors.
The proposal to lift the cap would raise taxes only on the wealthiest 1.5 percent of Americans.
Bernie Sanders, Press Release - Sanders Puts Social Security Challenge to Clinton Online by Gerhard Peters and John T. Woolley, The American Presidency Project https://www.presidency.ucsb.edu/node/314503