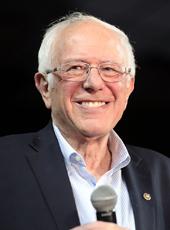 Press Release - Sanders Grassroots Campaign Passes 4 Million Milestone


HENDERSON, Nev. – U.S. Sen. Bernie Sanders' presidential campaign raised almost $21.3 million in January from small donors who contributed about $27 apiece on average, according to a report filed on Saturday with the Federal Election Commission.
Through Jan. 31, Sanders had raised $94.8 million since the campaign was launched last April 30.
Altogether, Sanders' grassroots campaign to date has received more than 4 million contributions.
Sanders spoke about campaign finances in a speech to some 600 supporters after Nevada's precinct caucuses on Saturday.
"What this entire campaign has been about has been the issue of momentum and bringing more and more people into the political process," he said. Speaking about "a corrupt campaign finance system which has undermined American democracy," Sanders declared that "we will not allow billionaires and their super PACs to continue to buy elections in the United States of America."
Unlike other candidates who are bankrolled by wealthy donors, only 3 percent of the total money Sanders has raised comes from supporters who have contributed the maximum $2,700 that an individual may give to a candidate running in primaries and caucuses.
"Our campaign is a strong grassroots movement supported by middle-class Americans from working families, not billionaires trying to buy elections," said Jeff Weaver, Sanders' campaign manager. "This campaign is built for the long haul and is drawing millions of new people into the process."
To read the FEC report, click here</>.
Bernie Sanders, Press Release - Sanders Grassroots Campaign Passes 4 Million Milestone Online by Gerhard Peters and John T. Woolley, The American Presidency Project https://www.presidency.ucsb.edu/node/314968