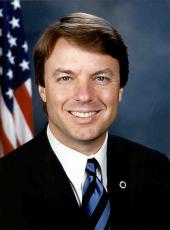 Press Release - A Sacred Contract with Our Military and Veterans Community
"I believe in a sacred contract between our country and America's veterans and military families. We must stand by those who stand by us. When our service men and women sacrifice so much to defend our freedom and secure peace around the world, we have a moral obligation to take care of them and their families."

– John Edwards
America is asking for deep sacrifices from the brave men and women of our Armed Services, without providing them and our veterans with the support they need. The recent scandal at the Walter Reed military hospital is only the tip of the iceberg. The Defense Department and the VA are still having trouble sharing medical records. Extended tours of duty and rapid redeployments have put new strains on military families. College has never been more important, but the GI Bill is now available to only half our service men and women in Iraq. [GAO, 2007]
Today, John Edwards called for repairing the sacred contract with our veterans and military community. In recognition of their bravery and sacrifice, Edwards believes we must guarantee quality health care for service men and women and every generation of veterans, provide families with the support necessary to withstand the strain of separations, and ensure returning troops have access to the education and opportunities to succeed in civilian life. Central to the sacred contract is a solemn pledge to every man and woman who risks their life for our country that we will take care of them as they take care of us.
Guaranteeing Quality Health Care for Veterans
Health care has been a cornerstone of our nation's commitment to our heroes since the first states undertook responsibility for caring for Continental Army veterans. Today, we are falling short on our historic commitment. Veterans report long delays for appointments at Department of Veterans Affairs (VA) facilities, which have done valiant work under difficult circumstances. The Bush Administration has consistently underfunded the VA and his budget cuts veterans' health in future years, while shifting burdens to beneficiaries. A review of 1,400 veterans' health facilities has turned up more than 1,000 reports of substandard conditions. [DVA, 2007; Washington Post, 10/13/06; PVA, 2007; DAV, 2006]
The changing nature of warfare has created a new class of injuries and a new set of needs for troops serving in Iraq and Afghanistan. Body armor and other technologies have protected men and women from injuries that would have killed them 10 years ago. But they still suffer extreme injuries from explosive blasts, including burns and an unprecedented number of traumatic brain injuries. These brain injuries often lead to epilepsy, related seizures, and other disabling conditions. Nonetheless, this year the Pentagon cut the request for the vital Defense and Veterans Brain Injury Center by 50 percent. The true cost of the war in Iraq includes substantial mental health issues. Nearly one out of every three veterans coming home are diagnosed with mental health issues. When they do get treatment, it is often poor; many are simply prescribed antidepressants or sleep aids. The vacancy rate in some services for active duty psychologists is nearly 40 percent, and many psychologists are not trained to treat post-traumatic stress disorder (PTSD). [House Committee on Veterans Affairs; New England Journal of Medicine, 5/19/05; Epilepsy Foundation, 2007; Archives of Internal Medicine, 3/12/07; Truman National Security Project, 2007]
As president, John Edwards will:
Fully Fund Veterans Health Care: The VA has already seen over 200,000 veterans from Iraq and Afghanistan. We must do everything we can to properly care for these brave men and women and help them get timely access to care by fully funding veterans' health care. Edwards is committed to providing the funding the VA needs to care for those who have sacrificed for the rest of us. [Washington Post, 10/13/06; DVA, 2007; VFW 2007]
Prevent Another Walter Reed: John Edwards is committed to helping the military medical establishment continue to deliver the best quality medicine in the world by properly funding all aspects of medical care, including maintaining the facilities and expediting boards and dispositions of the injured service members. As president, he will order a stem-to-stern review of military hospitals to ensure that our service members are getting the excellent care they deserve. He will also reject the Bush Administration's ideological drive to outsource federal jobs; a questionable decision to hire contractors to manage Walter Reed facilities contributed to the shocking conditions there. [Mattera, 2007]
Dedicate Resources to the Signature Injuries of Today's Wounded Warriors: The VA's prosthetics programs and polytrauma centers need increased resources. Traumatic brain injuries have been described by the Veterans of Foreign Wars as the "signature wound of this war." Rather than addressing these problems, the Bush Administration is pretending they don't exist. As president, Edwards will increase the research and treatment of these injuries and the conditions that follow from them. [VFW, 2007]
Provide a "Plan for Coming Home" for Every Service Man and Woman: As a nation, America did not deal well with the care and reintegration of veterans after the Vietnam War, leaving thousands of veterans without the care they desperately needed. We need to admit our mistakes and learn from them. As president, Edwards will require that all service members returning to the U.S. or leaving the military be provided with a new "Homefront Redeployment Plan," including thorough PTSD screenings, benefits information and seamless transfer of medical records. [VFA, 2007; PAV, 2007]
Create a National "Chain of Care," with Improved Treatment of PTSD: Once our service members become veterans, we have to make sure the system doesn't fail them. As president, Edwards will create a new national chain of care to ensure that no veteran again falls through the cracks. Because many veterans receive treatment outside the VA system, this chain will coordinate treatment and benefits in outreach centers and clinics in every county where a veteran resides, both within and outside the VA network. Edwards will also improve training for health personnel to recognize and treat PTSD; establish uniform standards for mental health care to address the wide range of quality of care; increase counseling resources within TRICARE and VA networks and permit access outside of the networks; and ensure that outreach is extended to family members who can help recognize symptoms. Caring for the newest generation of veterans must be accomplished without neglecting the continuing needs of veterans from previous generations.
Supporting Military Families
The conflicts in Iraq and Afghanistan have put our military and their families under incredible pressure through frequent extended tours and an unsustainable operations tempo. Army management policies aim for at least two years at home between deployments for active-duty personnel and mobilization of Guards members and Reservists no more than once every five or six years. But today we are sending some troops back with even less than a year's rest and recently extended Army tours from 12 to 15 months. On top of everything else, health care coverage for families of mobilized Guards members and Reservists is often disrupted or becomes costly if they wish to keep their civilian coverage. [MOAA 2007]
As president, John Edwards will:
Close the Gap Between Military and Civilian Pay: After 30 years, it's time to finally close the gap between military and civilian pay. The White House's recent decision to "strongly oppose" improved pay and benefits as "unnecessary" is part and parcel of this Administration's neglect of our troops and their families. Edwards believes we need to do everything we can to better stand by those who stand by us, starting with a commitment to closing the pay gap, and strongly supports legislation now in Congress to do just that. [MOAA, 2007]
Enable Guard and Reserve Families to Continue Health Care Coverage: When Guards members and Reservists are mobilized, health care coverage for their families is often disrupted. Edwards has proposed a specific plan to guarantee health care for every man, woman and child in America. Under Edwards' plan, Guard and Reserve families will be given the choice of receiving military health care or receiving help to continue their families' existing health care coverage. [MOAA, 2007]
Give Military Families a Voice in Family Policies: As president, Edwards will create a Military Families Advisory Board within the Department of Defense to give family members a voice in considering how to adjust family policies -- such as separation allowances, life insurance and savings rules -- based on operational needs.
New Respect and More Resources for Family Readiness Groups: Currently, it is difficult for Family Readiness Groups (FRGs) to raise sufficient funds to support their activities. FRGs are critical to maintaining a sense of community among military families during deployments, and providing crucial services. Edwards believes FRGs play an invaluable role supporting families under stress and deserve more resources and respect.
Providing Education and Economic Opportunities for Civilian Life
The final cornerstone of the sacred contract with our military and veterans community is ensuring that returning troops have access to the educational and economic opportunities to succeed in civilian life. Our armed forces and the way they are used have changed, and our policies must adapt. The original GI Bill put 13 million returning American service members through college after World War II and helped build the middle class. Today, our armed forces are smaller, but the need for higher education to succeed in civilian life is even greater. College graduates can expect to earn $1 million more over their lifetimes than high school graduates, and their children are almost twice as likely to attend college themselves. [College Summit, 2007]
Guard and Reserves members comprise half of our force in Iraq. One quarter of Guard members and Reservists are college students, and many more are graduates with student loans. When these patriots fight for our country overseas, they continue to pay interest on their student loans at home -- as much as $1,400 a year for the average service man and woman with loans.
While service men and women gain valuable training while serving, their experience often goes unrecognized when they go look for a job. The unemployment rate among young returning veterans aged 18-24 today is 15 percent, compared to 8 percent for Americans of the same age who did not serve. [American Legion, 2006]
As president, John Edwards will:
Modernize the GI Bill: Edwards will enact a new Total Force GI Bill that meets the needs of all of today's military and veterans, including Guards members and Reservists. It would give members of the Guards and Reserve benefits proportionate to the service they perform. It would also expand benefits for all eligible personnel and veterans, including job training education for high tech jobs and other growth sectors of the economy.
Provide Student Loan Relief for Mobilized Guard and Reserves Troops: No one should return to civilian life in deep debt because they served their country. However, under current law, interest on federal student loans continues to accrue. As president, Edwards would make sure our troops do not pay interest on their loans while defending our country.
Restore Vocational Training for Disabled and Occupationally Challenged Veterans: The Bush administration terminated the well-regarded program at the Department of Labor that offers skill training and job placement for veterans whose military specialties are not easily transferable to the civilian workforce and disabled veterans. Edwards would renew the program to help meet the post-Iraq needs of large numbers of military personnel returning from active duty. [American Legion, 2005]
John Edwards, Press Release - A Sacred Contract with Our Military and Veterans Community Online by Gerhard Peters and John T. Woolley, The American Presidency Project https://www.presidency.ucsb.edu/node/293591