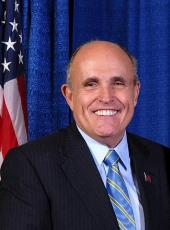 Press Release - Rudy Giuliani Reaffirms Commitment to Appoint Strict Constructionist Judges
In a speech today in Council Bluffs, Iowa, Mayor Rudy Giuliani continued to detail his 12 Commitments to the American People by pledging his commitment to appoint strict constructionist judges.
As President, Giuliani will only nominate judges who respect the U.S. Constitution and do not legislate from the bench. The Mayor, who served in President Ronald Reagan's Justice Department, pledges to use U.S. Supreme Court Chief Justice John Roberts and current Supreme Court Associate Justices Scalia, Thomas, and Alito as model appointments. Giuliani also called for the U.S. Senate to reform its rules to ensure that federal judicial nominees receive a prompt up-or-down confirmation vote.
"As President, I will reform our legal system and appoint strict constructionist judges who interpret the law instead of legislating from the bench," said Rudy Giuliani. "I will nominate strict constructionist judges with respect for the rule of law and a proven fidelity to the Constitution — judges in the mold of Justices Scalia, Thomas and Alito, and Chief Justice Roberts."
"Rudy is the leader that will keep us safe and will look after our prosperity in the country," said Justice Advisory Committee Member and former Assistant to the Solicitor General of the United States Miguel Estrada. "In 2008, we need to make every effort we can to have the quality judicial appointments that we have had in Justice Alito and Chief Justice Roberts. Rudy will be what our court system needs and what our litigation society needs."
Giuliani's commitment speech comes after he unveiled his Justice Advisory Committee yesterday, led by Ted Olson, former United States Solicitor General.
Reforming the U.S. legal system and appointing strict constructionist judges is one of Rudy's Twelve Commitments to the American People, his bold vision aimed at moving America forward. He will continue to travel the country this summer to detail each of his Twelve Commitments. For more about the Twelve Commitments, please click here.
Rudy Giuliani, Press Release - Rudy Giuliani Reaffirms Commitment to Appoint Strict Constructionist Judges Online by Gerhard Peters and John T. Woolley, The American Presidency Project https://www.presidency.ucsb.edu/node/295764