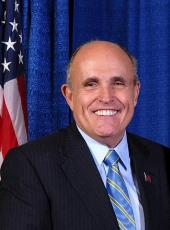 Press Release - Rudy Giuliani Campaign Unveils Justice Advisory Committee
The Rudy Giuliani Presidential Committee today unveiled the members of Rudy Giuliani's Justice Advisory Committee. Former Solicitor General of the United States Ted Olson will serve as Chairman.
The Committee is comprised of some of America's leading conservative scholars and practicing attorneys, many of whom Rudy Giuliani has known since his time serving as Associate Attorney General in Ronald Reagan's Justice Department. Members include former Assistant to the Solicitor General Miguel Estrada, Co-founder of the Federalist Society Steven Calabresi and former Deputy Attorney General of the United States Larry Thompson.
"Rudy Giuliani believes in limited government, individual liberty and interpreting the Constitution the way its framers intended," said Ted Olson, former Solicitor General of the United States and Chairman of the Justice Advisory Committee. "He understands that we need judges who interpret the Constitution, not legislate from the bench. Rudy Giuliani will appoint strict constructionist judges who share that philosophy."
"Unelected judges legislating from the bench threaten the Federalist philosophy that is the foundation of our Constitutional system," said Federalist Society co-founder Steven Calabresi. "Judges are meant to judge — not make laws. Under Rudy Giuliani, it will stay that way."
Members will advise Rudy Giuliani on a wide range of legal and policy issues including judicial appointments, tort reform and reducing frivolous lawsuits in our country.
About the Justice Advisory Committee:
Chairman of Justice Advisory Committee:

Ted Olson, former Solicitor General of the United States
Members:

Miguel Estrada, former Assistant to the Solicitor General of the United States

Steven Calabresi, Co-Founder of the Federalist Society

Larry Thompson, former Deputy Attorney General of the United States

Charles Fried, former Solicitor General of the United States

Carol Dinkins, former Deputy Attorney General of the United States

Maureen Mahoney, former Deputy Solicitor General of the United States

Doug Cox, former Principal Deputy Assistant Attorney General of the United States

Marc Mukasey, former Assistant U.S. Attorney

Dan Webb, former U.S. Attorney for the Northern District of Illinois

Bart Schwartz, former Chief of the Criminal Division, U.S. Attorney's Office for the Southern District of New York

Michael Mukasey, former Chief Judge, U.S. District Court for the Southern District of New York

Ron Cass, former Dean, Boston University School of Law

Jason Barclay, former Counsel and Policy Director to Governor Mitch Daniels (R-IN)

Randy Mastro, former Deputy Mayor of New York City

Howard Wilson, former Commissioner of Investigation for New York City

Daniel Rodriguez, former Dean, University of San Diego School of Law

George Priest, Professor of Law and Economics, Yale University

Walter Olson, Senior Fellow, Manhattan Institute
Rudy Giuliani, Press Release - Rudy Giuliani Campaign Unveils Justice Advisory Committee Online by Gerhard Peters and John T. Woolley, The American Presidency Project https://www.presidency.ucsb.edu/node/295758