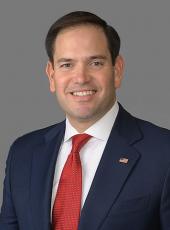 Press Release - Rubio: It's Time to Fix Our Relationship with Israel, Not Be 'Neutral'
March 6, 2016
By Marco Rubio
For years, President Obama and Hillary Clinton have treated Israel as one of America's biggest problems. From the disastrous nuclear deal with Iran to insulting Israeli Prime Minister Benjamin Netanyahu, there are too many examples to list. Even after years of failure, the administration continues to double down on its terrible treatment of Israel, instead investing time and energy in new friendships with countries like Iran.
In January, for example, the U.S. Ambassador to Israel, Dan Shapiro, openly attacked Israel for failing to prosecute attacks on Palestinians in Judea and Samaria. His blunt criticism came right after a 15-year-old Palestinian terrorist brutally murdered a mother of six — pressuring Israel just when it needs our support the most.
Lecturing Israel even as terrorists target its citizens in their streets and homes is something of a habit for the Obama administration. The European Union recently approved new trade rules requiring labeling of products made in what the EU considers "Israel-occupied territories" — including the Jewish Quarter of the Old City of Jerusalem. The goal is to encourage Europeans to boycott goods from Israel — part of a growing, dangerous worldwide movement to cut off the Jewish state from the global economy and starve it out of existence.
The Obama administration should have condemned this blatant, bigoted double standard. Instead, it endorsed it — with a State Department spokesperson confirming that the administration has no issue with the EU decision. Rather than stand with Israel, the White House sided with European attempts to browbeat the Jewish state into submission.
On my first day in office, I will end this moral ambiguity. The best way to begin restoring stability to the Middle East, and to the world, is to renew and strengthen our bond with the Jewish State.
My love for Israel runs deep. My support for Israel flows from my faith in God — my conviction that it is our duty to safeguard the Jewish State and help it flourish. I have been blessed to visit Israel on multiple occasions.  My wife Jeanette and I have prayed at the holy sites and been amazed time and again by the resilience of the Israeli people under great threat. And my dedication to the U.S.-Israel alliance stems from a careful understanding of our national interest: Israel is our best friend, strongest supporter, and an island of stability in a region of chaos.
I also understand the nature of the threats that Israel confronts. When Palestinians attack Israelis, I will not remain silent or call on both sides to exercise restraint, as if there were no difference between aggression and self-defense. Instead, I will confront the fact that leading Palestinian figures incite these poor children to murder Jews, placing them in harm's way to kill on their behalf.
As President, there will be no daylight between the Jewish state and me. I unequivocally reject the notion propagated by Donald Trump that the United States should somehow be "neutral" between Israel and the terrorists who seek its destruction. Even President Obama would not make such a naïve and uninformed declaration.
As President, I will take several immediate steps to bring trust back to the U.S.-Israel relationship. First, I will tear up the terrible nuclear deal with Iran started by Hillary Clinton and signed by President Obama. I will travel to Israel on my first trip abroad and stand side-by-side with Israel's prime minister. And I will make good on our longstanding promise to move the U.S. embassy from Tel Aviv to Jerusalem, the Jewish State's undivided and eternal capital.
With our bond restored, I will make our alliance with Israel central to our foreign policy in the Middle East. I will work with Israel to develop the next generation of missile defense systems and bolster its ability to address the many challenges it faces, from the Iranian nuclear program to the presence of ISIS terrorists on its borders.
My administration will end President Obama's policy of demanding unilateral concessions from Jerusalem and put the peace process back in perspective; with all the threats confronting Israel and with no viable peace partner, we need to support the Jewish State unconditionally.
And I will take a strong stand against efforts to delegitimize Israel at home and abroad. I will use every power of government to combat efforts to boycott Israel, and call on college presidents, administrators, religious leaders, and professors to condemn the boycott movement as blatant anti-Semitism — the same way they speak out against other forms of racism and bigotry. I will also end our tacit acceptance of UN bias against Israel. My administration will defund and leave UN entities that attack Israel while excusing the abuses of dictators and terrorists.
Some members of my own party call themselves strong supporters of Israel. But their actions don't back up their words. They support a foreign policy that would see America leave Israel alone to deal with Iran, ISIS, and Assad. They think we should remain "neutral" between Israel and the Palestinians.
The last thing we need is another President who doesn't understand who our true friends are. In choosing a president, we need to look at what candidates do, not just what they say. I have always been, and will always strive to be, a true friend to the only free-market pro-American democracy in the Middle East.
Marco Rubio, Press Release - Rubio: It's Time to Fix Our Relationship with Israel, Not Be 'Neutral' Online by Gerhard Peters and John T. Woolley, The American Presidency Project https://www.presidency.ucsb.edu/node/325985