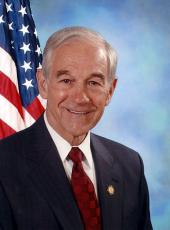 Press Release - Ron Paul Polls in First Place in Key Early Voting State of Iowa
New survey reveals a statistical tie with Herman Cain—and that Dr. Paul's support is unwavering
LAKE JACKSON, Texas — 2012 Republican Presidential candidate Ron Paul polls well within the margin of error at first place and has an unusually loyal following that is unlikely to switch to another candidate, according to a new Bloomberg News poll.
Paul polls at a strong 19 percent while pizza baron Herman Cain polls at 20 percent, making the first in the nation race a statistical tie. The poll has a margin of error of plus or minus 4.4 percentage points and was surveyed during November 10th to 12th.
Mitt Romney polls at 18 percent and Newt Gingrich at 17 percent among the likely caucus goers, while Rick Perry and Michele Bachmann earned just 7 and 5 percent, respectively. A mere 3 and 1 percent of respondents, respectively, chose Rick Santorum and Jon Huntsman.
Poll highlights favorable to Dr. Paul include the following points:
Among likely caucus-goers who say their decision is final, Paul leads with 32 percent, followed by Romney and Gingrich at 25 and 17 percent, respectively; and
Among Paul supporters who backed him in the 2008 caucuses, an impressive 69 percent of those who backed Paul's bid for the presidency in 2008 still support him now; and
Paul's campaign leads all other campaigns in voter contact, with about two thirds of respondents saying they've heard from his campaign.
The Bloomberg News poll follows a recent CNN/TIME/ORC poll showing that Paul polls among the top three in the key early voting state in Iowa, New Hampshire and South Carolina, and that concerning Iowa, Paul's support is growing along with the changing nature of the field.
"The Bloomberg News poll reveals that Ron Paul is a top contender in the key early voting state of Iowa, which helps determine who will win the Republican nomination for the presidency," said Ron Paul 2012 National Campaign Chairman Jesse Benton.
Ron Paul, Press Release - Ron Paul Polls in First Place in Key Early Voting State of Iowa Online by Gerhard Peters and John T. Woolley, The American Presidency Project https://www.presidency.ucsb.edu/node/299087