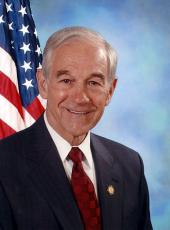 Press Release - Ron Paul Polling Third in Iowa and New Hampshire
Solid showing among the Hawkeye and Granite States' likely GOP caucus-goers and primary voters
LAKE JACKSON, Texas — 2012 Republican Presidential candidate Ron Paul polls third among likely Republican caucus-goers in the key first-in-nation state of Iowa, according to a recent American Research Group poll, and different angles to this survey reveal his support may keep him anchored in third place or higher.
Congressman Paul also polls third in New Hampshire, according to a recent WMUR/University of New Hampshire poll.
In Iowa, Congressman Paul garnered 16 percent of the likely Republican caucus goers surveyed, on the heels of Mitt Romney and Newt Gingrich who earned 20 and 27 percent, respectively. Paul's third-place showing in the poll is far ahead of past and aspiring top-three competitors. Pizza baron Herman Cain, Rep. Michele Bachmann and Rick Santorum all earned a modest 6 percent of the vote, Texas Gov. Rick Perry earned a mere 5 percent, and just 3 percent of respondents selected Jon Huntsman. The ARG poll also notes that among likely caucus goers who are already enrolled in the Republican Party, Paul remains a strong third place with 14 percent of the vote, with Gingrich and Romney at 30 and 17 percent, respectively.
Also in Iowa, voter self-identification with the Tea Party, or lack thereof, both help Paul remain in the top three or better: Among likely Republican caucus-goers saying they are supporters of the Tea Party, Paul polls in secondplace with 19 percent. Among likely caucus-goers saying they are not supporters of the Tea Party or that they are undecided about the Tea Party, Paul polls third with 12 percent. The poll of 600 likely Republican caucus-goers was conducted over November 17th to the 23rd and has a margin of error of +/- 4 percent.
In New Hampshire, Congressman Paul is holding strong in third place, within the margin of error of +/- 3.8 percent for second place in this survey of 665 randomly selected adults. Among likely New Hampshire Republican Primary voters, Paul polls at 12 percent behind Mitt Romney and Newt Gingrich who earned 42 and 15 percent, respectively. As in the Iowa poll, the WMUR/UNH poll shows that other Republican presidential hopefuls failing to place in the top three have modest single-digit results.
"These poll results demonstrate that Ron Paul's support in Iowa and New Hampshire is loyal, solid, and diverse, not subject to the media and pundit-fueled 'flavor of the week' whims. As the finish line approaches, we're hopeful for a strong showing that reflects this strong base of support and its steadily growing numbers," said Ron Paul 2012 National Campaign Chairman Jesse Benton.
Ron Paul, Press Release - Ron Paul Polling Third in Iowa and New Hampshire Online by Gerhard Peters and John T. Woolley, The American Presidency Project https://www.presidency.ucsb.edu/node/299115