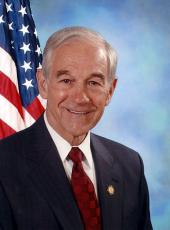 Press Release - Ron Paul New Hampshire Team Names 'NH Employers for Ron Paul' Coalition Leadership
"We don't need an American Jobs Act; we need a recovery."
CONCORD, N.H. — The New Hampshire component of the Ron Paul 2012 Presidential campaign announced today the leadership of the "NH Employers for Ron Paul" coalition, formed to organize business support for an end to the nation's ongoing debt, fiscal, and economic crises.
NH State Senator and business owner Andy Sanborn (R-Henniker) chairs the coalition, joined by co-chairs and fellow businessmen State Rep. Keith Murphy (R-Bedford) and Dave DeVoy, as well as attorney Kelleigh Domaingue Murphy.
"Business owners don't want fancy, shiny political doublespeak. We want solutions to problems and want to institute those solutions today so we can fix our challenges today. Our tax and regulatory challenges are so excessive, it's inhibiting our ability to hire and expand. Dr. Paul is the only presidential candidate who has a plan to fix Washington today and restore America," said Sen. Sanborn, who operates business in several industries.
"In his long career Dr. Paul has consistently proven himself a man of integrity and principles; no easy feat in Washington DC," added Rep. Murphy, who operates a restaurant in Manchester. "He truly stands for real Republican values: smaller government, a balanced budget, and greater freedom. I share those values, and I'm proud to endorse Ron Paul for president."
"I spend all my time staying compliant with government bureaucracies instead of working on my business," added DeVoy, who owns a variety of gas convenience stores in Belknap County. "Ron Paul gets it. He supports the middle class, and he understands how taxes and regulations are strangling economic growth."
Attorney Domaingue Murphy added, "Ron Paul has been at the forefront of fiscal conservatism since entering politics in 1976. He is the only candidate with a solid and consistent track record of fiscal conservatism, and has the integrity and commitment America so needs in these times. It is both an honor and a pleasure to endorse him for President."
Ron Paul, Press Release - Ron Paul New Hampshire Team Names 'NH Employers for Ron Paul' Coalition Leadership Online by Gerhard Peters and John T. Woolley, The American Presidency Project https://www.presidency.ucsb.edu/node/299231