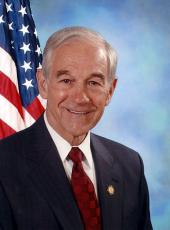 Press Release - Ron Paul Iowa Team Welcomes New 'Gun Owners for Ron Paul'
Featured Second Amendment advocates hail from 11 Iowa counties
ANKENY, Iowa - The Ron Paul 2012 Presidential campaign announced today additional Iowa gun owners joining the "Gun Owners for Ron Paul" nationwide coalition.  Today's additions reside in Scott, Polk, Webster, Wapello, Audubon, Fayette, Linn, Story, Butler, Delaware, and Keokuk counties, all Iowa.
The following gun owners and everyday Ron Paul caucus-goers offer the following public statements for consideration by the media and other gun owners:
Starting with Scott County, Brian Sydnes of Eldridge stated, "History has shown when the people fear the government, they live in tyranny, but when the government fears the people, they have liberty. Congressman Ron Paul understands the Constitution, the Second Amendment, and history. That is the reason why I support him, and join ranks with the 'Gun Owners for Ron Paul.'"
"As a responsible gun owner, I value Ron Paul's stances on personal liberty. With Ron Paul in the White House, there would be no need to worry about the slew of bills continually aimed at inhibiting the rights of American gun owners," added Robert Weiss of Davenport.
Avid hunter Doug Havill of LeClare explained his caucus choice saying, "Ron Paul's understanding of the Constitution is amazing. He understands that the Second Amendment should not be infringed upon and that safety is a matter of personal responsibility."
Concealed-carry permit holder Scott Carlson, a Davenport resident, stated, "I support Ron Paul for president because he knows the Second Amendment means exactly what it says, and that the 'people' referred to in it are the same 'people' referred to in the First, Fourth, Ninth, Tenth, and Seventeenth Amendments."
Polk County resident John Hoover of Des Moines expressed his backing of Paul saying, "I support Ron Paul because he has his principles and sticks to them no matter what. His support of the Constitution is foremost in his platform, and I know he would not change that after taking the oath to uphold and defend it."
"I support Ron Paul because of a long track record of fiscal responsibility, standing for freedom, small government, and the Constitution," Adam Weltha, also of Des Moines, said as he excitedly signed onto "Gun Owners for Ron Paul" over the weekend.
Continuing with Webster County residents, Emily Martin of Fort Dodge declared her support for Ron Paul, "...because he is a true statesman and will follow the Constitution. I trust him to end the illegal wars and corruption. He will bring about a much needed revolution of ideas in America."
Dean Pringle, hailing from Moorland, explains his vote succinctly: "Ron Paul is ever so stout on upholding the interpretation of the Constitution the founders intended, and will uphold our rights and not change them based on whomever disagrees with the written declarations. I urge others to consider Ron Paul, a man who will stand by his words and convictions."
Wapello County and Ottumwa resident Phillip Burgmeier shared his ideas: "I'm supporting Ron Paul because he is the only chance the next generation has to have a better life than their parents. Ron Paul's actions speak for him, he is a good person."
"He's the best man for the job, to get the country out of the position it is in, to end nation-building and restore America's place in the world," added concealed carry permit holder Johnnie Walker of Brayton in Audubon County.
Fayette County gun owner Bill Roys of Wadena said of Ron Paul, "Of all the candidates, he's been the most outspoken supporter of the Second Amendment, both in what he says in his speeches and how he votes in the Congress."
Writing from Linn County, Adam Rompot of Cedar Rapids praised Dr. Paul's record, "Ron Paul has been totally consistent all the way around, including gun rights and everything else. That's why I'm voting for him."
Marsha Crouthamel of Ames in Story County emphasized the importance of self-responsibility, stating, "Living in a rural area I take comfort in owning a gun. It's the first line of protection when the sheriff is at least 30 minutes away."
Harold Anderson, a Shell Rock resident in Butler County, reflected on his support for Dr. Paul: "Having been able to carry a gun since I was a teenager, I appreciate the fact that as an American I still have the ability. Ron Paul has always defended those rights, and that's why I'm voting for him."
Proud gun owners Jason Guyer of Manchester (Delaware County), and Jonathan Oliver of Martinsburg (Keokuk County), also were among those sending messages of support in the moments prior to the release of these statements, an illustration of the momentum for Ron Paul among this critical segment of voters.
As a first basic step, those interested in joining the ranks of the "Gun Owners for Ron Paul" nationwide coalition should visit the official page by clicking here. If residing in the Hawkeye State, gun owners may inquire with Meghann Walker, Director of Iowa Voter Outreach for the Ron Paul 2012 Presidential campaign, at meghannw@ronpaul2012.com.
For more information on Ron Paul's stance on the Second Amendment, please click here.
Ron Paul, Press Release - Ron Paul Iowa Team Welcomes New 'Gun Owners for Ron Paul' Online by Gerhard Peters and John T. Woolley, The American Presidency Project https://www.presidency.ucsb.edu/node/299510