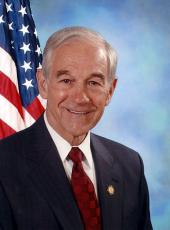 Press Release - Ron Paul Iowa Team Salutes Newest 'Veterans for Ron Paul'
Heroes for Dr. Paul hail from Linn, Polk, and Van Buren counties, and span different service branches
ANKENY, Iowa — The Iowa component of the Ron Paul 2012 Presidential campaign released today new statements of support from a sample of Iowans who recently joined its "Veterans for Ron Paul" nationwide coalition.
These are everyday veterans, yet active citizens in their community with honorable records of service.
Among the latest to join is U.S. Army and Iowa National Guard veteran Andrew Lyons. Mr. Lyons spent four years active duty as a medic in the 82nd Airborne Division, completing two tours of duty in Iraq. Following his time in Fallujah and Kurdistan, he continued his service in the Iowa National Guard for three years.
Mr. Lyons, a Cedar Rapids resident, proclaims his support with the following statement:
"I support Ron Paul for president because there is no other candidate who is fully committed to revamping our foreign policy. I fully endorse his idea of bringing troops home from all foreign countries. Ron Paul's idea that the current foreign policy of preemptive war undermines our national security compelled me to reevaluate my position on the issue. After reflecting on my time in Iraq, I realize that our presence over there does indeed create more enemies for the United States, and is counterproductive to our national security interests."
Twenty-year Navy veteran Kelly Schoen, also of Cedar Rapids, attained the rank of Commander. She was CO of a squadron of four jets in Norfolk, Virginia, and also went on a pair of six-month cruises on the USS Concord and USS Kalamazoo. Her statement follows.
"Ron Paul has the integrity demanded of a truly great leader. We need a leader we want to follow, person who is honest and courageous in the face of adversity, and a leader that serves not his self, but a higher purpose. That purpose is our nation's health and that leader is Ron Paul."
Hailing from the Des Moines area, John Feller began his service in the Merchant Marines in 1945 and left in 1948. He also served in the Navy from 1951-1954, taking part in intelligence operations, refueling ships, and as a Yeoman on a destroyer. In total, he crossed the Atlantic 16 times as a Merchant Marine and while in the Navy was off the coast of Korea during the Korean conflict. Due to exposure to asbestos in the Navy, he has contended with cancer as a consequence and has never fully been compensated for his suffering.
Mr. Feller was recently featuredin a Veteran's Day story in the Indianola Record Monitor, highlighting his dedication to his community through his local VFW, helping other veterans and assisting military families.
"I support Ron Paul because he is the only candidate who cares enough about the United States of America. He has proven this by having served in the Armed Forces of the United States. This indicates to me that he is really the only candidate who has walked the walk before he talked. He is definitely the only candidate who has presented a workable solution to the ills that now face our country, and the fortitude and tenacity to implement these same solutions for the betterment of the nation," said Mr. Feller in a statement to the Ron Paul campaign.
Two-tour Iraq veteran of the U.S. Army, Abe Elam of Douds spent eleven years in the Army and 27 months of those years on the battlefield as a part of Operation Iraqi Freedom. Also a veteran of the 2008 Ron Paul campaign, he enthusiastically backs Paul this election:
"I support Ron Paul for President because of his strong adherence to the Constitution. I support his strict foreign policy, true fiscal conservatism, and authentic plan to balance the budget. I have never felt so strongly about a presidential candidate in all my life. I am a veteran of Operation Iraqi Freedom with two tours, spanning 27 months and I can honestly say from the bottom of my heart that Dr. Paul cares deeply for America and its sons and daughters who fight for her. I am caucusing for Ron Paul in my precinct and I am voting for him."
Ron Paul is one of only two candidates this election with an honorable record of military service. A flight surgeon during the Cold War era, his commitment to veterans was recently showcased in the campaign's television ad "He Served," viewable here. To view Dr. Paul's more recent national security-themed television ad title "Secure," click here.
As a first basic step, those wanting to join the "Veterans for Ron Paul" nationwide coalition should visit www.RonPaul2012.com/Veterans. Or, if residing in Iowa, local veterans are invited email the Iowa Director of Voter Outreach, Meghann Walker, at meghannw@ronpaul2012.com.
Ron Paul, Press Release - Ron Paul Iowa Team Salutes Newest 'Veterans for Ron Paul' Online by Gerhard Peters and John T. Woolley, The American Presidency Project https://www.presidency.ucsb.edu/node/299346