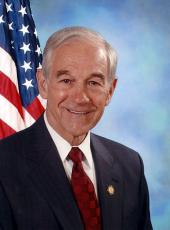 Press Release - Ron Paul Iowa Team Names New 'Farmers for Ron Paul' Nationwide Coalition Members
Supporters from Warren, Pocahontas and Jackson counties produce diverse crops, livestock
LAKE JACKSON, Texas — The Iowa component of the Ron Paul 2012 Presidential campaign announced new members of its "Farmers for Ron Paul" nationwide coalition formed to energize voters in America's unrivaled agricultural sector.The new "Farmers for Ron Paul" members hail from Warren, Pocahontas and Jackson Counties.
"I support Ron Paul for many reasons, but as a small Iowa farmer, I support his stance that less government is what is needed and we need Washington out of our lives and business. He strongly opposes the National Animal Identification System (NAIS), which is just big government trying to put yet another burden on the small farmer and perhaps putting us out of business. In addition Ron Paul wants to eliminate the EPA and restructure the FDA, both of which limit what we can sell and how we go about selling it. Farmers need Ron Paul as he is the real deal, and he will stand up for our rights," said David Swaim of Milo.
Mr. Swaim and his wife have their farm for a year and a half. It consists of 11 acres on which they produce poultry and hay. Mr. Swaim is also a veteran from Iraq.
"Ron Paul is the only consistent candidate for president. He's is steadfast in his adherence to the Constitution and the Bill of Rights. His Congressional record of never voting to increase taxes and opposition to undeclared wars makes him the only appealing candidate to both the mainstream GOP and the middle of the road independents opposed to prolonged, undeclared wars. Dr. Paul would push to end agricultural subsidies and government involvement in the free market of agricultural products," said Dale Roewe of Laurens.
Mr. Owens owns a 1,100-acre farm that has been in his family since 1882. The farm employs one person aside from Mr. Owens's family, and produces corn and soybeans.
"Going back many, many administrations, government farm policies have done nothing more than de-populate rural America. Recent food scares created by corporate sized processing facilities led to the signing of The Food Modernization and Safety Act, which came close to regulating all food grown for human consumption. On June 9, 2011, Executive Order No. 13575 established The White House Rural Council, with a mission to '... coordinate and increase the effectiveness of Federal engagement with rural stakeholders, including agriculture organizations, small businesses, education and training institutions health-care providers, research and land grant institutions, law enforcement, State, local and tribal governments, and non-governmental organizations regarding the needs of rural America,'" said Jim Blitgen of Bellevue.
"This is way too much government where it does not belong. I stand behind Ron Paul, as he is for less federal involvement that takes away states' rights and more importantly my personal liberties. I do not want to be told what to do on my land," said Mr. Blitgen, who has owned his farm since 1962.
Mr. Blitgen owns 90 acres and mostly produces alfalfa hay, but has an acre dedicated to growing vegetables including tomatoes, squash, onions, carrots, peppers, potatoes, whole oats and wheat. He also has 4 horses. Mr. Blitgen is also something of a local hero as last year he helped ameliorate the damage caused by frightened horses running amok at the 2010 annual Bellevue Parade.
Messrs. Swaim, Roewe and Blitgen now serve on the "Farmers for Ron Paul" national advisory board. As a first basic step, those wanting to join the "Farmers for Ron Paul"coalition should visit www.RonPaul2012.com/Farmers.
Ron Paul, Press Release - Ron Paul Iowa Team Names New 'Farmers for Ron Paul' Nationwide Coalition Members Online by Gerhard Peters and John T. Woolley, The American Presidency Project https://www.presidency.ucsb.edu/node/299119