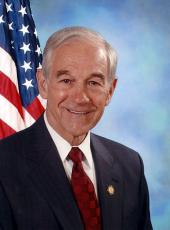 Press Release - Ron Paul Endorsed by Pastor of North Central Iowa Church
Franklin County pastor calls Dr. Paul the candidate who is "most in conformity with biblical principles."
ANKENY, Iowa — 2012 Republican Presidential candidate Ron Paul was endorsed today by the Rev. Doug Holmes, pastor of Sovereign Grace Church located in Dows.
"Today I am endorsing the candidacy of Ron Paul for President of the United States, as Dr. Paul is the one who I believe is most in conformity with biblical principles. He is not a perfect candidate and does have issues that give me pause, but he stands apart from the other contenders.
"Issue stances that appeal to me include embracing a strong prolife position, adhering to biblical teaching on just weights and measures, the potentially crippling dangers of a debt-based economy and fractional reserve banking system, parental rights in the education and care of their children, a non-statist and voluntary approach to welfare, a non-invasive foreign policy, and a proper understanding of checks and balances in the exercise of political power not only within the Federal government, but between the Federal government and the states.
"Ron Paul's consistent commitment to his vow to uphold the Constitution of our republic has rendered him an 'unelectable liability' in the minds of many in the Republican establishment but it is this same consistent, principled and uncompromising stand that also endears him to many freedom loving Americans who desire to see this great land turned from its present suicidal course of massive debt, economic bailouts, international meddling, forced welfare, unjust taxation and increasing moral confusion.
"Please consider voting for Ron Paul in the upcoming Republican caucuses this January 3rd," said Rev. Holmes.
In endorsing Ron Paul for the presidency, Rev. Holmes mentioned he was doing so as a private citizen and not on behalf of Sovereign Grace Church congregants.
News of the endorsement was well-received by Ron Paul 2012 Iowa Chair Drew Ivers who said, "Rev. Holmes' expression of support, including biblical justifications many other Christians will appreciate, is most welcome. His support and that of other Christian faith leaders puts a strong top-three caucus showing closer in reach."
Mike Heath, Iowa State Director for the Ron Paul 2012 campaign, is visiting Christian churches across Iowa to do outreach and discuss Ron Paul's candidacy. To date, Heath has visited 256 houses of worship across the state toward that end. Heath is an ordained Christian minister.
If ministering in Iowa, local pastors interested in discussing an endorsement are invited to email the Iowa Director of Voter Outreach, Meghann Walker, at meghannw@ronpaul2012.com.
Ron Paul, Press Release - Ron Paul Endorsed by Pastor of North Central Iowa Church Online by Gerhard Peters and John T. Woolley, The American Presidency Project https://www.presidency.ucsb.edu/node/299333