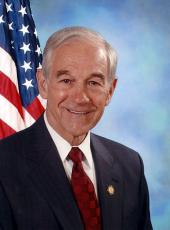 Press Release - Ron Paul Campaign Tops Others in Q3 Active-Military Donations
Outraises all other Republican candidates combined, outraises Obama
LAKE JACKSON, Texas — The Ron Paul 2012 Presidential Campaign raised more campaign donations from active military than all other presidential candidates—Republican or Democrat—including having raised more funds from this segment than all other GOP competitors combined, and more than incumbent President Barack Obama.
Dr. Paul, an Air Force veteran, raised more than $75,000 from active military in the third quarter. This comes after Dr. Paul out-raised all GOP candidates — including all GOPers combined, and President Obama singularly — in the second quarter of this year. Dr. Paul also outraised his GOP competitors in a head-to-head comparison during his 2008 run for the presidency.
This determination was arrived at using an independent campaign analysis of FEC filing data focusing on contributors who listed their occupation and employer when contributing.
"Ron Paul is the only candidate with a plan to end the growing number of unconstitutional undeclared wars, having an unclear connection to U.S. national security, end costly overseas nation-building that pays no friendship dividends, and stop subsidizing global security. Instead Dr. Paul will bring our troops home, secure our borders and lead the nation in practicing a traditional Republican noninterventionist foreign policy," said Ron Paul 2012 Campaign Chairman Jesse Benton.
"Let me also submit that Dr. Paul out-raising all candidates in military donations demonstrates that his 'Plan to Restore America' might sit well among voters who are active-military or veterans," continued Mr. Benton.
To view the Ron Paul 2012 Presidential Campaign's latest veterans-themed ad, click here. To view its latest foreign policy-themed ad, click here.
Ron Paul, Press Release - Ron Paul Campaign Tops Others in Q3 Active-Military Donations Online by Gerhard Peters and John T. Woolley, The American Presidency Project https://www.presidency.ucsb.edu/node/299090