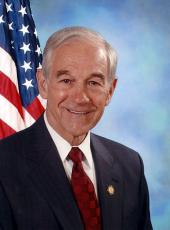 Press Release - Ron Paul Campaign Releases 60-Second Version of Newt Ad
Ad takes hard look at the former Speaker's record
LAKE JACKSON, Texas — The Ron Paul 2012 Presidential campaign announced today that it will release a shorter60-second version of an earlier web advertisement that challenges former House Speaker Newt Gingrich on a group of issues dear to conservative voters.
Much of the ad is in the former Speaker's own voice, and after a few statements by Newt it features news clips about the former Speaker's lobbying ties to government mortgage giant Freddie Mac, a firm that helped perpetuate the financial crisis and recession. In addition, the spot showcases discussion of Newt's lobbying ties to healthcare firms prior to his support of an Obama-Pelosi-Reid individual mandate as part of the recent wildly unpopular healthcare reform, to the absolute horror of nationally-syndicated conservative radio talk show host Rush Limbaugh.
The campaign is shipping the ad to Iowa TV stations today, and it will be going up as part of an expanded Paul buy in Iowa beginning on Wednesday. It will run in conjunction with Paul's other new ad, 'Big Dog'.
"We wanted to ensure this ad reached as many voters as possible, to debunk the myth that the Newt we are seeing on the 2012 campaign trail is the conservative he has been touted to be all along," said Ron Paul 2012 National Campaign Chairman Jesse Benton.
"The voters are looking for authentic conservatives who are able to show a decades-long career of consistently walking the walk of Constitutional principles, limited government, and promoting sound economic policies. Ron Paul is the only Republican presidential candidate with that record."
To view the ad, click here.
Ron Paul, Press Release - Ron Paul Campaign Releases 60-Second Version of Newt Ad Online by Gerhard Peters and John T. Woolley, The American Presidency Project https://www.presidency.ucsb.edu/node/299035