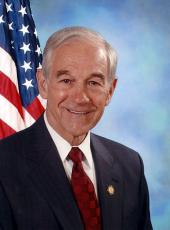 Press Release - Ron Paul Campaign Names New 'Farmers for Ron Paul' Nationwide Coalition Members
Nationally-known Virginia farmer and Iowa farmer support Paul through a 'growing' coalition
LAKE JACKSON, Texas — The Ron Paul 2012 Presidential campaign announced today new members its "Farmers for Ron Paul" nationwide coalition formed to energize voters in America's unrivaled agricultural sector.
The new members include a nationally-known proponent of holistic farming methods, and a farmer from the key early voting state of Iowa.
"I've been a fan of Ron Paul for years, since the first day I learned about his positions. He's the only one with enough backbone to take on the entrenched corporate-government fraternity by attacking with the power of freedom, thereby unleashing entrepreneurial dreams on the marketplace. Currently cowering under the withering fire of guns, badges, and bureaucracy, America's home-based and back-yard innovators have plenty of antidotes to the problems that plague our culture," said Joel F. Salatin, who raises livestock using chemical-free holistic methods and co-owns with his family Polyface Farm in Swoope, Virginia.
"Paul understands the power of bottom-up creativity. Reducing the military, both foreign and domestic, reducing regulatory power, and reducing the penetration of prejudicial government interests in the culture is the balanced approach to restore constitutional normalcy. Paul is the only national figure willing to go to the mat for these precious principles that will ensure tomorrow's opportunities," said Mr. Salatin.
Mr. Salatin authored eight books, including the most recent Folks, This Ain't Normal. He was featured in the film documentary Food, Inc. and most recently in TIME magazine on October 24, 2011. The New York Times dubbed Mr. Salatin "the high priest of the pasture" and he is often introduced as the "most famous farmer in America."
Reflecting Dr. Paul's support in the first-in-nation voting state of Iowa, farmer Kevin Wolfswinkel of Sibley, Osceola County also joined the pro-Paul farmers' coalition.
"Ron Paul and I both agree that liberty and big government cannot co-exist for very long. Government dislikes the idea of independent minded individuals having free reign over their own lives. At the same time agriculture is one of the few remaining bastions of freedom loving entrepreneurs, and unless a new course is charted farmers risk losing everything they and their families have spent generations working for," said Mr. Wolfswinkel, who produces corn, soybeans and pork.
"The hard work and personal sacrifice required to succeed in agriculture is at risk of being erased either by crippling regulation, the government's financial mismanagement, or a combination of both. Ron Paul is the only presidential candidate who possesses the expertise, personal will, and integrity to begin us on the road to regaining control of our lives and livestock," added Mr. Wolfswinkel.
Messrs. Salatin and Wolfswinkel now serve on the "Farmers for Ron Paul" national advisory board. As a first basic step, those wanting to join the "Farmers for Ron Paul"coalition should visit www.RonPaul2012.com/Farmers.
Ron Paul, Press Release - Ron Paul Campaign Names New 'Farmers for Ron Paul' Nationwide Coalition Members Online by Gerhard Peters and John T. Woolley, The American Presidency Project https://www.presidency.ucsb.edu/node/299228