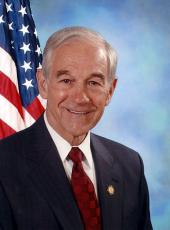 Press Release - Ron Paul Campaign Announces Internet and TV Ad Featuring Sen. Rand Paul
Presidential candidate's son, a U.S. Senator, connects tea party values with dad's lifelong aims
LAKE JACKSON, Texas — The Ron Paul 2012 Presidential campaign unveiled today a new Christmas-themed ad featuring U.S. Senator Rand Paul (R-KY), son of presidential candidate Dr. Ron Paul.
The ad has already been emailed to the Pauls' supporters and is available on YouTube. The ad will run on television in the key early voting states of Iowa and New Hampshire December 24th and 25th, Christmas Eve and Christmas Day.
The 30-second ad features the junior Senator from the Commonwealth of Kentucky talking about his father flatteringly, as most sons would. And yet, the praise he heaps upon his father is uncommon because of the Pauls' stature as preeminent antiestablishment political leaders in areas such as fiscal restraint and constitutionality.
Sen. Paul connects the principles of the tea party movement that elected him to an unexpected landslide victory with his father's lifelong commitment to that same doctrine. These are values the senator describes as actions against politicians that support more debt, bigger government, government bailouts, and establishment priorities.
The ad begins with the scene-setting, "I'm Rand Paul. My father taught me the value of commitment to faith, family and our Constitution." From there, with a Christmas tree as backdrop, Sen. Paul puts forth the idea that his father the senior Dr. Paul is closely aligned with the tea party.
Both Pauls are by trade medical doctors, with the senior Dr. Paul a prolific OB-GYN who personally delivered more than 4,000 babies and the junior Dr. Paul an accomplished eye surgeon.
"He's always stayed true to his principles and convictions. He won't falter, he won't bend, and he will restore what made America great," Sen. Paul concludes before the customary "God bless America," and wishing viewers a Merry Christmas.
"Senator Paul is always there for his father and he will make a great First Son. Through this ad, the senator makes a strong argument for why citizen activists concerned with America's future are ideal partners with Ron Paul in restoreing America to prosperity and its founding principles," said Ron Paul 2012 National Campaign Chairman Jesse Benton.
To view the upcoming television ad featuring Sen. Rand Paul online, please click here.
Ron Paul, Press Release - Ron Paul Campaign Announces Internet and TV Ad Featuring Sen. Rand Paul Online by Gerhard Peters and John T. Woolley, The American Presidency Project https://www.presidency.ucsb.edu/node/299104