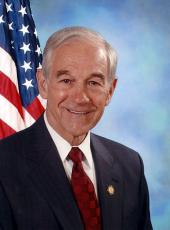 Press Release - Ron Paul Campaign Announces 'Attorneys for Ron Paul' Nationwide Coalition
Citing his fealty to the Constitution, legal experts supporting Dr. Paul hail from Texas, Indiana, Virginia and Montana
LAKE JACKSON, Texas — The Ron Paul 2012 Presidential campaign announced today its "Attorneys for Ron Paul" nationwide coalition to energize voters in the legal profession.
Inaugural members of "Attorneys for Ron Paul" hail from Texas, Indiana, Virginia and Montana, and include two former Law School Deans, a former U.S. Air Force JAG officer, and a former Reagan Administration official. These lawyers will serve on the coalition's national advisory board to organize support for Ron Paul in the legal community. Statements by each attorney as well as biographical information follow.
Other lawyers joining Attorneys for Ron Paul will be announced in the near future.
"Ron Paul is a man of great moral certainty, with a keen understanding of the complexities of the financial and political systems of the United States. More importantly, he possesses a truly unique courage to not shirk from or compromise the U.S. Constitution as his unshakeable paradigm of government. Of the many men and women to have sought this office in my lifetime, I am aware of none who has shown the depth of Dr. Paul's knowledge of the American Constitution. Nor have any demonstrated Dr. Paul's God-given wisdom to understand and apply the Constitution to the almost countless issues that the leader of this republic must face. He is a man who deeply loves his country and his people," said J. Mark Brewer of Houston, Texas.
"As president, Ron Paul alone has the ability to provide the constancy to lead us through perilous times with honor. At home, he would be guided by a reverence for individual rights and freedom from the economic tyranny of the Fed and its cabal of financial predators. He would stand against the barrage of attacks of the last two decades against the Bill of Rights' guarantee of the right to trial by jury in civil cases. As a renowned physician, he would bring singular perspective to the politicization of healthcare and the 'war on drugs' as well as the ever-increasing federalization of public education. Abroad, he would elevate respect for peace and civility over those erstwhile clamorers for war with their shameless profiteering and hidden agendas," he added.
"I am deeply honored to endorse Ron Paul for president of the United States of America in 2012," said Mr. Brewer, who has more than 27 years of law practice, including four as a Judge Advocate in the U.S. Air Force. His trial experience includes more than 60 criminal and disciplinary jury trials in the Air Force and dozens of complex business litigation matters ranging from construction, insurance, surety, securities, fraud, product liability, deceptive trade practice, and professional malpractice.
Mr. Brewer also served as plaintiff's counsel in the "Census Suit" — obtaining the only restraining order in U.S. history, enjoining criminal enforcement of the unconstitutional "long form" census questionnaire.
"Ron Paul aligns with principles that sustain social harmony and community. They were clearly expressed by Edmund Burke and in our time by Russell Kirk. These principles are also organizational in the sense that the Constitution of the United States and of the American states that long preceded the Federal Constitution came into existence because of them. They are eternal and if contemporary lives vivify them in the functioning documents of government, such as the American constitutions, then civil harmony, economy, and peace naturally appear. Ron Paul understands this," said William F. Harvey of Indianapolis, Indiana.
Mr. Harvey is the Emeritus Dean and Emeritus Professor of Law at the Indiana University School of Law in Indianapolis, Indiana. He is the author of 25 volumes published by West Publishing Company. He taught law for 40 years, and he engaged in extensive trial and appellate practice in federal and Indiana state courts. In the Reagan Administration he served as an advisor to the Secretary of Education on accreditation for schools and universities. He was the chairman of and a member of the Board of Directors of the Legal Services Corporation. In 1985, President Reagan selected him for appointment to the United States Court of Appeals for the Seventh Circuit. He was an officer in the United States Navy, serving on an aircraft carrier in the Pacific in Task Force 77 in Korea and Indochina.
"I devoted nearly three decades of my life to teaching constitutional law to law students, and almost another two decades in practicing constitutional law. Rarely in that time have I found anyone — lawyer or laymen — who demonstrates the understanding that Ron Paul exhibits for the Constitution. At critical times in America's history, God has raised up men of wisdom and character to return the nation to First Principles. Ron Paul is such a man. It is a distinct honor to count myself among his supporters for President," said Herbert W. Titus.
Mr. Titus holds the J.D. degree (cum laude) from Harvard and the B.S. degree in Political Science from the University of Oregon from which he graduated Phi Beta Kappa. Previously, he taught constitutional law, common law, and other subjects for nearly 30 years at five different American Bar Association approved law schools. From 1986 to 1993, he served as the founding Dean of the College of Law and Government in Regent University, Virginia Beach, Virginia. Prior to his academic career, he served as a Trial Attorney and a Special Assistant United States Attorney with the United States Department of Justice in Washington, D.C. and Kansas City, Missouri. Today he is engaged in private practice with a concentration in constitutional strategy, litigation, and appeals.
"For every American who truly believes in limited Constitutional government, and yearns to enjoy the freedom that it promises, the only path in 2012 is to support the one candidate who lives by that Constitution — Ron Paul. Dr. Paul is running not because he wants to exercise the monarchical powers that prior presidents have usurped — but because he wants to return those powers to the people. Dr. Paul is the only Republican candidate whose core principles radiate for all to see, and that's why he is the only candidate who also has broad appeal to Independents and Democrats. The hardest part will be getting nominated, as that requires breaking through a system that has been carefully tailored to favor insiders. The easier part will be the general election where the people, who know that the establishment of both parties has put us on the road to bankruptcy and tyranny, will have the opportunity to pull that lever for Ron Paul and thereby take our country back," said William J. Olson of Winchester, Virginia.
Mr. Olson is a graduate of Brown University and the University of the Richmond School of Law. He has been in the private practice of law in the Washington, D.C. area for 35 years, with an emphasis in Constitutional law, nonprofit organizations, firearms law, health law, and FOIA law. During that time, he has made over 50 filings in the U.S. Supreme Court. He served as a legal compliance advisor to the 1980 Reagan Campaign, a Team Leader in the Reagan transition, and held three positions in the Reagan Administration, including Chairman of the Board of the national Legal Services Corporation. He was Chairman of the Fairfax County (Virginia) Republican Party, and a member of the Virginia Republican State Central Committee. He represented Ron Paul in his constitutional challenge to the unconstitutional McCain-Feingold campaign finance law.
"I am supporting Ron Paul because his views of the U.S. Constitution are most similar to the values and philosophy of the founding generation and Enlightenment philosophy, which created the basis for the U.S. Constitution. His domestic policies will help restore the balance of power between State and Federal and will put more power back into the individual's hands. It will be much better for business and prosperity in America. More than any president since Regan, it will get America back on the track of respect, honor, and freedom. By far, his foreign policies match that of the true understanding of the U.S. Constitution. His policies will alleviate the international tension that is being caused by the United States entanglement with the affairs of the world. It will save lives and trillions of wasted dollars. It will dis-incentivize the corruption that goes along with a war-state. In short, Ron Paul is the best candidate for president of the United States in 2012 because he is the champion of the Constitution," said Tim Baldwin of Kalispell, Montana.
Mr. Baldwin has been an attorney since 2004 and is licensed to practice in Florida and Montana. He worked for two and a half years as an Assistant State Attorney in Florida and has owned his law practice since 2006. Mr. Baldwin handles constitutional, criminal, and civil matters. He is a published author of two books, both of which are political and philosophical in nature, and he regularly writes columns that are posted and printed nationwide.
As a first basic step, those wanting to join the "Attorneys for Ron Paul"coalition should click here.
Ron Paul, Press Release - Ron Paul Campaign Announces 'Attorneys for Ron Paul' Nationwide Coalition Online by Gerhard Peters and John T. Woolley, The American Presidency Project https://www.presidency.ucsb.edu/node/299240