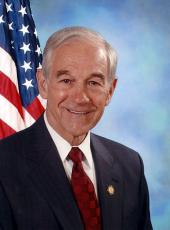 Press Release - Ron Paul Again Polls Second in New Iowa Survey
Support increased 8 percentage points since same survey was held in early October
ANKENY, Iowa — 2012 Republican Presidential candidate Ron Paul placed second in a poll of likely Republican caucus goers, garnering 18 percent or 8 percentage points higher than when PPP last conducted this poll. The 12-term Congressman from Texas is between Newt Gingrich and Mitt Romney, who have 27 and 16 percent, respectively.
Poll highlights include the fact that Paul with 28 percent leads Gingrich by 10 percentage points among the 20 percent of likely caucus goers who are either Democrats or independents. Paul also gets 23 percent of those who are under 45 years of age compared to 21 percent for Gingrich, 16 percent for Rep. Michele Bachmann, and 15 percent for Romney.
Paul leads Gingrich 23 to 20 percent with voters who care most about a candidate's stances, and of the 29 percent of likely voters who have seen one of the candidates in person, Ron Paul outclasses Gingrich by 27 to 22 percent. In addition 62 percent of Paul supporters are strongly committed to him but just 49 percent of Gingrich supporters respond that they will definitely vote for him.
"Ron Paul continues to demonstrate the kind of sustainable growth required to make a respectable showing in Iowa. There's no point in climbing Mt. Everest one day, only to fall into the Grand Canyon just days or weeks later," said Ron Paul 2012 National Campaign Chairman Jesse Benton.
"We're also pleased that Ron Paul attracts independents and Democrats because while our focus is on winning Republican votes in key early states, the end goal is to unseat an incumbent president whose base is increasingly weak-kneed," said Mr. Benton.
PPP surveyed 572 likely Republican caucus goers via telephone from December 3rd to the 5th, and the poll's margin of error is +/- 4.1 percent. For full poll results including tables, click here.
Ron Paul, Press Release - Ron Paul Again Polls Second in New Iowa Survey Online by Gerhard Peters and John T. Woolley, The American Presidency Project https://www.presidency.ucsb.edu/node/299118