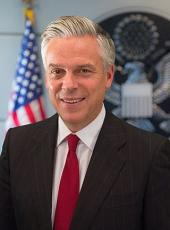 Press Release - Romney's Leadership Deferred
A debt crisis like this is a time for leadership, not a time for waiting to see which way the political winds blow.
Mitt Romney has maintained for weeks a decidedly low profile amid the frenzied debate over boosting the nation's credit limit, even as he seeks to confine the terms of debate with President Barack Obama to the economy.
Apart from ambiguous applause for Speaker John Boehner's since-tabled proposal, the Bay Stater's buttoned lip was so conspicuous that his punim began appearing on milk cartons. But he broke his extended silence yesterday, after a compromise framework had been already established and the entirety of the primary field had evaluated it, to offer this 11th hour pronouncement: You're doing it wrong. ("I personally cannot support this deal," Romney said in a Monday statement.)
Of course, Romney offered at no juncture guidance to Congressional negotiators as they hashed out the contentious, dueling proposals to raise the nation's debt ceiling. But he did stay at a Holiday Inn Express last night!
The end to Romney's absenteeism -- which aides told the Huffington Post yesterday was a measure of caution to "avoid commenting before the contours of a deal became clear" -- came only after Jon Huntsman, who first backed the Boehner bill and later the new compromise plan, began pressing his fellow former governor to reveal his position. ("If you're not willing to lead out during the time of this debt ceiling debate, then that should raise some questions about when you are, in fact, going to take a position and lead out," Huntsman told CNN's Wolf Blitzer Friday.)
Gov. Huntsman echoed that criticism yesterday in New Hampshire, telling a press gaggle that Romney's leadership deferred belies the pressing choices that await the next president. "It's easy to take a political position later on," Huntsman said. "It's tough to take a position early on, which is the real world," adding that "leaders step up."
But it appears our skepticism of Romney's politics of convenience is shared by even prominent former endorsers and advisers of the Massachusetts governor. Rich Lowry, whose editorship of the the conservative National Review saw the influential mag offer its endorsement to Romney in his first presidential bid, offered yesterday this sarcastic gem on Twitter: "does anyone believe Romney really opposes the debt deal?" And GOP strategist Mike Murphy, who steered Romney through his maiden primary voyage three years earlier, expressed dismay on the same medium, saying Romney's transparent tack was "surprising and depressing."
Huntsman, meanwhile, made no secret of his position on the various proposals floating through Congress.
"While this framework is not my preferred outcome, it is a positive step toward cutting our nation's crippling debt," the governor, who now stands as the lone Republican presidential contender not complicit in a dangerous lurch toward default, said of the compromise plan in a Sunday statement:
"Because the legislation promises cuts commensurate with the debt ceiling increase, forces a vote on a much-needed federal balanced budget amendment and provides the only avenue to avoid default, I encourage members of Congress to vote for this legislation.
"While some of my opponents ducked the debate entirely, others would have allowed the nation to slide into default and President Obama refused to offer any plan, I have been proud to stand with congressional Republicans working for these needed and historic cuts. A debt crisis like this is a time for leadership, not a time for waiting to see which way the political winds blow.
"Going forward, I will aggressively advocate for a plan from the congressional committee that includes real cuts, entitlement reform, and revenue-neutral tax reforms -- without any tax hikes.
"The Republican members of Congress deserve tremendous credit for moving this debate to the forefront and at long last beginning to get Washington in line."
Jon Huntsman, Press Release - Romney's Leadership Deferred Online by Gerhard Peters and John T. Woolley, The American Presidency Project https://www.presidency.ucsb.edu/node/298878