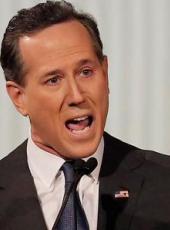 Press Release - Romneycare, A Heavyweight Burden on Massachusetts' Economy
Verona, PA - Former Massachusetts Governor Mitt Romney claims to be an "economic heavy-weight," but his healthcare policies are only weighing down the economy in his home state of Massachusetts. As we mark the two year anniversary of Obamacare, we are reminded that Romneycare, just like Obamacare, has dealt a knockout blow to our personal freedoms and delivered a serious jab to our economy.
"For Governor Romney to attack his opponents as economic light-weights is simply an attempt to distract the voters and the media from his economic policies that are still weighing down Massachusetts' economy," said Santorum. "Romneycare has saddled Massachusetts taxpayers with not just out of control government intrusion, but ballooning balance sheets at a time we need to put our nation's fiscal house in order."
Mitt Romney's health care overhaul "Romneycare" is an unaffordable burden for Massachusetts taxpayers and families:
Romneycare expanded Medicaid to include hundreds of thousands of new enrollees - another unaffordable cost for the state's taxpayers, as well as federal taxpayers, who have had to subsidize Massachusetts' ill-conceived healthcare takeover. (Scott W. Atlas, MD, Reforming America's Health Care System: The Flawed Vision of ObamaCare, published by the Hoover Institution Press, pages 106-109)
A new study from researchers at the University of Minnesota describes the impact of Romneycare. The report says: "Massachusetts continues to struggle with escalating health care costs, reflecting the decision to defer addressing costs in the 2006 legislation." Just as ObamaCare ignored the centrality of costs and quality issues in healthcare, Massachusetts' healthcare plan simply "kicks the can down the road" without solving the problem. (http://www.washingtontimes.com/news/2012/mar/13/romney-fication-of-health-care-reform/?page=all#pagebreak)
In 2006, then-Governor Mitt Romney promised that through his health care law "the costs of health care will be reduced." Now, six years later, Massachusetts has the HIGHEST health insurance premiums in the nation. Furthermore, the rates continue to climb at the steepest increase of any state in the country. Massachusetts has the highest premiums in the country, and they continue to grow.
The costs of Romneycare have not been purely of an economic nature. Massachusetts residents pay the cost through longer wait times to see a physician. Massachusetts has dire doctor shortages and some of the longest wait times in the country to see a primary care physician. (Scott W. Atlas, MD, Reforming America's Health Care System: The Flawed Vision of ObamaCare, published by the Hoover Institution Press, pages 106-109)
Speaking about ObamaCare this week, Romney said the law was "an unfolding disaster for the American economy, a budget-busting entitlement and a dramatic new federal intrusion into our lives." The same could be said about Romneycare, which had devastating effects on Massachusetts' economy. (http://theadvocate.com/news/2404014-123/romney-obamas-health-law-an)
"I am committed to righting the wrongs in our healthcare system," said Santorum. "But that does not start with a government-centric healthcare overhaul like Romneycare or Obamacare that do nothing but increase our deficit. I have been, am, and will be committed to reforming healthcare based on the patient's need and getting government's hands out of the most personal decisions any individual can make."
Rick Santorum, Press Release - Romneycare, A Heavyweight Burden on Massachusetts' Economy Online by Gerhard Peters and John T. Woolley, The American Presidency Project https://www.presidency.ucsb.edu/node/301247