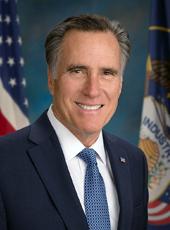 Press Release - Romney For President Announces Young Professionals For Mitt
FOR IMMEDIATE RELEASE

CONTACT: Kevin Madden (857) 288-6400
Boston, MA – Today, Romney for President announced the D.C. Chapter of Young Professionals for Mitt – the first chapter of Governor Romney's efforts to involve young professionals in his 2008 presidential campaign. Serving as Co-Chairs of the D.C. Chapter will be Alex Annett of Patton Boggs and Drew Maloney of Ogilvy Government Relations.
"Young Professionals for Mitt will be our flagship organization for reaching out to voters who are just beginning their careers. In each of their professions, they are driving forces for new and innovative ideas. With their help, they will be a driving force behind our campaign as we continue building support across the nation," said Governor Romney.
With today's announcement, Alex Annett said, "As young professionals, we are impressed with Governor Romney's pro-growth record and agenda. He has balanced budgets, promoted entrepreneurship and transformed institutions. He creates change and change is what Washington needs."
Joining his fellow Co-Chair, Drew Maloney said, "We are looking forward to helping Governor Romney raise the resources he needs to continue building his strong national organization."
Over the coming weeks, Romney for President will announce several new Young Professionals for Mitt chapters across the country.
The Young Professionals For Mitt D.C. Chapter:


- Jason Abend, National Law Enforcement Recruiters Assn.

- Alexander Annett, Patton Boggs

- Dean Armandroff, American Medical Association

- Lindsey Arms, Public Affairs Consultant

- Blake Ashbee, Direct Impact

- Annabel Atherton, Friedman Billings Ramsey

- Brian Baker, Boies Schiller & Flexner

- Michael Bell, Hogan & Hartson

- Dan and Aimee Berger

- Elliot Berke, Barbour Griffith Rogers LLC

- Andrew Bird, Organizational Staff

- Tomas Bilbao

- Scott Blakeslee, Deloitte & Touche

- Jodi Hanson Bond, Motorola

- Kevin Book, Oil & Gas Analyst

- Jill Bratina, Public Strategies

- Eric Brown, Patton Boggs LLP

- Brad Card, Dutko Worldwide

- Stephanie Cathcart, Public Affairs Consultant

- Chaz Cirame, Consultant

- Roy Coffee, Locke Liddell Strategies

- Craig Cookson, Convio

- Cesar Conda, Navigators

- Jim Cox, B&L Group

- Christina Culver, Dutko Worldwide

- Drew Cutler, Consultant

- Makan Delrahim, Brownstein, Hyatt & Farber

- Vincent De Vito, Pepper Hamilton LLP

- David Distefano, Locke Liddell Strategies

- Troy Dow, The Walt Disney Company

- Ryan P. Duffy, Speechwriter

- Ellen Barker Dunagan, Traverse Solutions

- John Dunagan, Public Affairs Consultant

- Andrew Ehrlich, B&D Consulting

- Reed Farnsworth, Financial Consultant

- Amy Flachbart, K&L Gates

- Wesley Fricks, Public Affairs Consultant

- Shawn Friesen, Government Affairs Consultant

- Kimberly Fritts, The Podesta Group

- Nate Gatten, Larson Stewart Myrick & Link

- Colleen Gerald, Public Affairs Consultant

- Chris Goode, Hyjek & Fix

- Aron Griffin, Carmen Group

- Taylor Gross, Herald Group

- Erik Gustafson, Mortgage Bankers Association

- Justin Hart, COMSYS

- Robert Hayk, Smith Barney

- Darrell Henry, Public Affairs Consultant

- Patrick Holley, Citigroup

- Mark Isakowitz, Fierce, Isakowitz & Blalock

- Rene Isles, B&D Consulting

- Michael Isom, National Security Consultant

- Todd Johnston, National Mining Association

- Ed Kaleta, Government Affairs Consultant

- John Kelly, Wal-Mart

- Anna Kimsey, Dutko Worldwide

- Dan Klenck

- Stephanie Lester, Retail Industry Leaders Association

- Drew Maloney, Ogilvy Government Relations

- Jeff McWaters, Amerigroup

- Frank Micciche, Sallie Mae

- Eric Miller, Sales Analyst

- Phil Musser, New Frontier Strategy

- Darryl Nirenberg, Patton Boggs LLP

- Sarah Obenour, Haute on the Hill

- Nels Olson, Korn/Ferry International - Josh Overbay, U.S. Chamber of Commerce

- Anita Peduzzi, PAC Director

- Julie Philp, Government Affairs Consultant

- Paul Poteet, Biotechnology Industry Organization

- Rick Powell, Quinn Gillespie

- Sara Graves Raak, Public Affairs Consultant

- Sujit Raman, Hogan & Hartson

- Brian Reardon, Venn Strategies

- Michael Robinson, Government Relations

- HL Rogers, Attorney

- Marc Ross, American Chemistry Council

- Shalla Ross, Barbour Griffith Rogers LLC

- Andy Rubert, Smith Barney

- Iggy Sanchez, DLA Piper

- Rumu Sarkar, CALIBRE Systems

- Gene Schaerr, Winston & Strawn

- Kristin Schrader, Public Affairs Consultant

- Tyler Schwab, ADT

- Travis Seegmiller, Patton Boggs

- Kristin Seitz, Public Policy Manager

- John Spitaleri Shaw
- Brett Shogren, The Washington Group

- Jonathan Simons, U.S. Chamber of Commerce

- Matt Spencer, Illumen

- Tim Stewart, Larson Stewart Myrick & Link

- Mari Stull, Club BV

- David Tamasi, Ogilvy Public Relations

- Bob Tompkins, Patton Boggs LLP

- Martin Whitmer, Whitmer & Worrall

- Anita Winsor, Consultant

- Darren Wilcox, Dutko Worlwide

- Tom Worrall, Whitmer & Worrall

- Adrian Yeoh, Sprint
Mitt Romney, Press Release - Romney For President Announces Young Professionals For Mitt Online by Gerhard Peters and John T. Woolley, The American Presidency Project https://www.presidency.ucsb.edu/node/296992