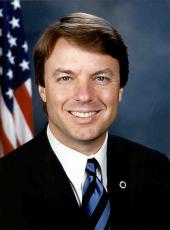 Press Release - As "Road To One America" Tour Continues, Edwards Unveils Plan To Promote Economically Diverse Schools
Discusses agenda to expand opportunity and build One America
Cleveland, Ohio – As Senator John Edwards begins day two of his "Road to One America" tour to shine a bright spotlight on the issue of poverty, he will announce a new plan to promote economically diverse schools, so more young people have access to a quality education. Edwards believes we need to make sure that no American is separated from the opportunities of our country. Today's initiative is the latest in his agenda to expand opportunity, which will also strengthen schools and recruit excellent teachers, make college affordable, encourage savings, stop abusive lending, and support affordable housing near good jobs and good schools.
"We still have two public school systems in America, and millions of children are separated from opportunity by their race or their class," said Edwards. "We need to do everything we can to improve their education, and that includes economically diverse schools. More low-income students should have the opportunity to go to schools where they are likely to have experienced teachers, parents who are more involved and classmates with high aspirations."
The recent Supreme Court decision limiting school districts' efforts to integrate their schools will exacerbate the effects of racial and economic isolation. While not a substitute either for racial integration, which may still be permissible under some circumstances, or for improvement of high-poverty schools, efforts to achieve income diversity can put poor students in schools where they are more likely to have experienced teachers, classmates with high aspirations and parents who are more involved. These students perform better without hurting the achievement of middle-class students. A national model exists in Wake County, North Carolina, where Edwards' eldest two children attended public school.
In order to promote economic diversity within school districts and across district lines, Edwards will provide new federal resources to:
Give bonuses to schools in affluent communities enrolling low-income students.
Create magnet schools dedicated to economic integration by doubling current federal magnet schools funding to $200 million a year, and dedicating the increase to schools that draw students from across district lines and pledge to maintain economically diverse schools.
Create a million housing vouchers over five years to help low-income families move to better neighborhoods.
For more information on Edwards' agenda to end poverty and create One America where everyone has the opportunity to live up to their potential, please click here for the fact sheet.
John Edwards, Press Release - As "Road To One America" Tour Continues, Edwards Unveils Plan To Promote Economically Diverse Schools Online by Gerhard Peters and John T. Woolley, The American Presidency Project https://www.presidency.ucsb.edu/node/293780