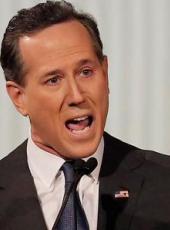 Press Release - Rick Santorum Stands as the One Fighter for Conservative Principles
Hanover, NH - At tonight's Bloomberg/Washington Post Republican Presidential Debate, former Senator Rick Santorum (R-PA) showed that he is one contender prepared to not just lead the American economy forward, but reinvigorate the manufacturing sector and rebuild the great middle of America suffering under the Obama Administration - a plan so bold that even Governor Romney "agree(d) with Rick" when discussing corporate taxation.
Hogan Gidley, National Communications Director, said: "Tonight showed a clear delineation between which candidates understand how to fix America and which candidates' ideas are pipedreams. Senator Santorum does not shy away from calling Democrats, or even his Republican counterparts on stage, to task when they are wrong. When Ron Paul blamed American policies for 9/11, Senator Santorum called him to task. When Rick Perry stood by his mandated inoculation of pre-teen girls and his giveaways to illegal immigrants, Senator Santorum called him to task. And tonight, when Herman Cain refused to acknowledge his 9-9-9 plan was naïve and he stood by his support of TARP, Senator Santorum called him to task. We need a president not afraid to unapologetically stand by conservative principles, and Senator Santorum does just that."
ON BRINGING BACK THE MANUFACTURING SECTOR
"(Manufacturing) jobs can come back if we create a climate to bring them back... people want to see the fruits of their labor."
"The difference between my plan and, say, Herman's is that mine would pass."
ON AMERICAN ECONOMIC COMPETITIVENESS
"I don't want to go to war with China, I want to beat China."
ON OBAMACARE AND ROMNEY'S FAITH IN WAIVERS
"We must repeal Obamacare, not by waivers. Think California will take a waiver? No. And the people of New Hampshire will be forced to subsidize California's healthcare."
ON HERMAN CAIN'S 9-9-9 PLAN
"Don't give Nancy Pelosi another pipeline to raise taxes! How many people here are for a sales tax in New Hampshire?... (no hands rise) There you go, Herman. That's how many votes you'll get in New Hampshire."
Rick Santorum, Press Release - Rick Santorum Stands as the One Fighter for Conservative Principles Online by Gerhard Peters and John T. Woolley, The American Presidency Project https://www.presidency.ucsb.edu/node/298560