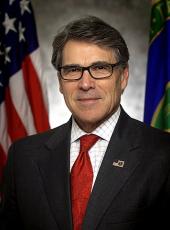 Press Release - Rick Perry Announces his Candidacy for President and His Plan to Put America Back to Work
Live from the RedState Gathering in South Carolina, Texas Governor Rick Perry announces his candidacy for President of the United States and his plan to put America back to work.
1:33 - With Governor Perry's speech concluded, the boisterous crowd of conservative activists, bloggers and grassroots volunteers have swarmed the stage trying to talk to and shake the hand of the man many of them believe is the candidate that can turn this country around, brining it back to the vision the Founders had more than 200 years ago.
Several bloggers said afterword that they were moved by the Governor's vision of a better America, his patriotism and his desire to restore fiscal sanity to Washington.
Stay tuned to RickPerry.org for more on Governor Perry's plan to get America working again and join the campaign today!
1:30 - Governor Perry: As President, "I will work every day to make Washington, D.C. as inconsequential in your lives as I can."
1:28 - "We will repeal this President's one size fits all Government healthcare plan."
1:25 - "I declare for you today that I'm a candidate for President of the United States." The crowd chants "Perry, Perry, Perry!" at the top of their lungs.
1:23 - "Revitalizing the economy is our country's most urgent need. Stopping the generational theft posed by record debt is our long-term mission."
1:22 - "America is not broken, Washington DC is broken."
1:20 - "It's time to get America working again. It's time to give a pink slip to the current residents of the White House." The crowd goes wild.
1:19 - "We don't need a President who apologizes for America."
1:17 - "Our President has insulted our friends." Including Israel, our greatest friend in the Middle East.
1:14 - The crowd goes nuts as the Governor talks about the importance of turning around the rising unemployment rate and cutting the excessive spending in Washington.
1:11 - "Not everyone values life like we do in America."
1:10 - "At age 8, I was blessed to meet my future wife, Anita Thigpen, at a piano recital. We had our first date eight years later. And she finally agreed to marry me 16 years after that I'm persistent."
1:09 - "I am also the product of a place called Paint Creek, a community too small to be called a town along the rolling plains of West Texas."
1:07 - Governor Perry asks for a moment of silence to honor the members of our Armed Forces who bravely put their lives on the line to protect our freedoms.
1:05 - With a standing ovation and raucous applause, Governor Perry enters the room.
1:00pm Eastern - About 700 conservative activists are crammed into a ballroom and overflow space at the Francis Marion hotel in Charleston, South Carolina awaiting Texas Governor Rick Perry.
Rick Perry, Press Release - Rick Perry Announces his Candidacy for President and His Plan to Put America Back to Work Online by Gerhard Peters and John T. Woolley, The American Presidency Project https://www.presidency.ucsb.edu/node/297868