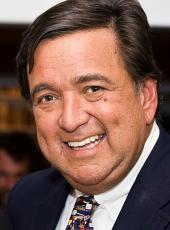 Press Release - Richardson for President Campaign to Announce Arizona Steering Committee
Richardson to appoint Congressman Ed Pastor as Arizona Honorary State Chairman
SANTA FE, NM- Tomorrow, the Richardson for President Arizona Steering Committee will announce the members of the committee at a press conference at 9:30am on the grounds of the Arizona State Capitol, on the House Lawn.
"I am honored to have such tremendous support from prominent, respected, and qualified Democrats from across the state of Arizona," said Governor Richardson. "Our momentum is accelerating every day, and with the support of individuals like Congressman Pastor we are proving that the political strength of our campaign is a force to be reckoned with."
"As Honorary State Chairman, I am very proud that Bill has attracted leadership from throughout Arizona," said Congressman Ed Pastor. "As the governor of a Southwestern state, Richardson shares the values of the people of Arizona, and understands the importance of issues critical to the growth and prosperity of the West - allocation of water, border security, immigration, development of natural resources, and protection of our beautiful Western lands. Governor Richardson's candidacy presents a rare opportunity to ensure that someone who truly understands the West is leading the nation. Richardson's experience and personality will attract voters from Arizona and across America in his quest to take back the White House."
Arizona Steering Committee Members:
Congressman Ed Pastor - Chair
Former State Senator Sandra Kennedy - Co-Chair
State Representative Kyrsten Sinema - Co-Chair
Minority Whip Steve Gallardo - Co-Chair
State Senator Meg Burton-Cahill
State Representative Chad Campbell
State Representative Theresa Ulmer
State Representative David Lujan
State Representative Mark DeSimone
Former Minority Leader John Laredo
Mr. Ronnie Lopez, Former Chief of Staff to Governor Bruce Babbitt
Former Maricopa Democracy for America Chair Catherine Miller
Activist Mario Diaz
Activist Charlie Arbaugh
Democratic Activist Frank Costanzo
Union High School Governing Board Member Amy Kobeta
Union High School Governing Board Member Cristy Lopez
"I am supporting Governor Richardson because he will help to restore and strengthen our relationships internationally," said former State Senator Sandra Kennedy. "Governor Richardson is the most qualified to restore our standing in the world and I am proud to serve as his one of his Co-Chairs."
"The Governor is the most qualified candidate in the 2008 field," said Minority Whip Steve Gallardo. "Richardson will make America energy independent, improve access to healthcare, and unite us as a country. I am honored and proud to serve on his Arizona leadership team."
"I am supporting Bill Richardson because of his commitment to human and civil rights," said State Representative Kyrsten Sinema. "He does not only speak of them, but has acted to expand them throughout his career. As Co-Chair, I look forward to taking this message to all Arizonans."
Additional political endorsements and state steering committees will be announced in the coming weeks.
Bill Richardson, Press Release - Richardson for President Campaign to Announce Arizona Steering Committee Online by Gerhard Peters and John T. Woolley, The American Presidency Project https://www.presidency.ucsb.edu/node/294634